3 New Trading Places Maps & This Week's Deals
Posted by TreeFitty June 14, 2016 : 1 Comments : 4,555 Views
For those who may have missed it amongst all of the Buy and Sell missions and new VIP Work and Challenges, last week's update also included an electric new mode called
Trading Places
, where instant reversals of fortune add fatal injury to a Loser's insult. Today, Rockstar has added three additional new maps to Trading Places in which to demonstrate your tactical supremacy and strive to remain a Winner. Additionally, a whole new set of discounts are available in-game and another exclusive limited-time unlock is available for the next week. Read on for all the information...
THREE NEW TRADING PLACES MAPS
Tables turn quickly and friends become foes in three brand new maps now added to Trading Places mode today in GTA Online. You'll shoot and dodge your way to the Winner's circle in Little Seoul in Trading Places IV, have a rumble at the Lost Club House in Grapeseed in Trading Places V, and team-build the hard way near the Harmony Place Construction Site in Trading Places VI.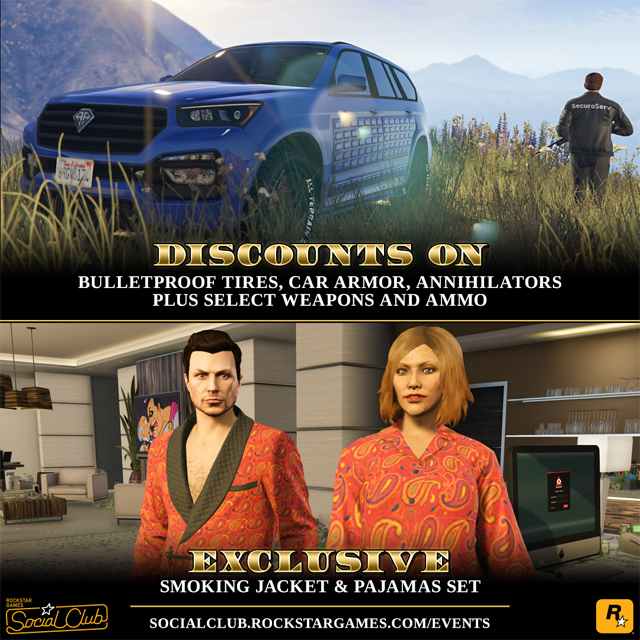 EXCLUSIVE UNLOCKS AND SPECIAL DEALS AVAILABLE THROUGH MONDAY JUNE 20
Starting today in GTA Online and running through Monday June 20th, enjoy valuable discounts on Bulletproof Tires, Car Armor, Annihilator Helicopters, select Weapons and Ammo as well as stylish and sleek unlockable bedroom apparel.
UNLOCK THE RED SWIRL SMOKING JACKET & PAJAMAS SET
When the working day is done, and you just want to relax in your Office with a glass of contraband Bleuter'd and a game of Don't Cross The Line, nothing says "I'm off the clock" like this set of Red Swirl Pajamas and the matching Smoking Jacket. Unlock yours for free simply by logging into GTA Online anytime now through Monday June 20.
50% OFF BULLETPROOF TIRES & 25% OFF CAR ARMOR
Don't forget that the quickest way to pick up Special Cargo is to drive over it; amidst a hail of gunfire from would-be saboteurs, this is also the safest option. Make it that much safer this week by investing in discount Bulletproof Tires and Car Armor for your Grotti Bestia, Pegassi Reaper or other executive transport of choice.
25% OFF ANNIHILATOR HELICOPTERS
Invest in a prime piece of military hardware this week from the Elitas Travel website, and you'll be protecting you and yours for 25% less than the standard retail price. Healthy for your wallet, and for the stash of Special Cargo in your Warehouse. Four mounted Miniguns also make this the perfect choice for destroying incoming shipments belonging to rival Organizations.
AMMU-NATION SALE: 25% OFF SELECT WEAPONS, AMMO & PARACHUTES
In this week's Ammu-Nation Sale, there are 25% discounts across a huge range of armaments and armor, ideal for kitting yourself out before your next interview to be an Associate for one of Los Santos rich and powerful. 25% discounts apply to:
• Carbine, Assault and Compact Rifles
• Machine Pistol
• SMG
• Heavy Shotgun
• Combat PDW
• All Ammo
• Weapon Tints and Etched Finishes
• Body Armor
• Parachute Bags and Canopies
Enjoy and hit up the
forums
!
---
Comments (1)
---
Make A Comment
Sorry, comments have been disabled for this article.