Asked & Answered: First-Person, Heists, More
Posted by TreeFitty December 17, 2014 : 4 Comments : 22,634 Views
Rockstar has received lots of questions from the community about what is in store for the future, including the highly anticipated launch of Online Heists which was discussed yesterday. Today Rockstar has a new installment of their Asked & Answered series that addresses those and many other frequently asked questions they've seen recently. If you've got a question for them feel free to hit up
[email protected]
and they'll do their best to provide you an answer.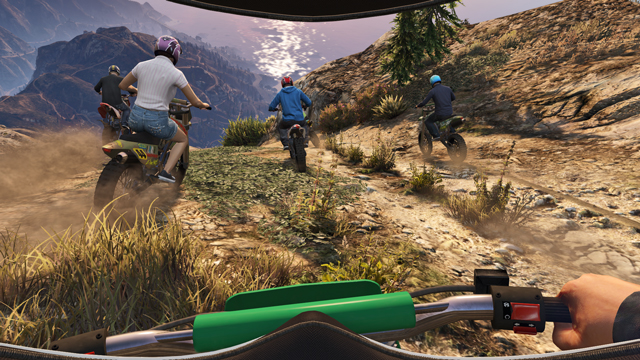 Below are answers to questions straight from Rockstar Games:
"Are you only doing first person games now? I have always loved Rockstar Games partly because they are third person games."
– Allen (via Mouthoff)
Absolutely not! We are excited by the response to our first effort at a first person experience, but remain committed to third person games and may or may not use first person as a camera option in the future. We do like to, whenever possible, give people options so they can play a game the way they like.
"To the people at Rockstar Games, could you guys please bring First Person to PS3 / Xbox 360?"
– Brandon (via Mouthoff)
"Why just have First Person on next-generation, why not on the other consoles? Could [you] add it to PS3 and Xbox [360] please?"
- @DawsonSunderlan
As we'd mentioned in our recent interview with IGN, First Person Mode is a new feature that is only technically possible for us to add to the game with the expanded memory that the new generation platforms provide. There are thousands of new animations added to the game to facilitate First Person Mode, which would have been impossible to do on the previous generation of consoles without seriously compromising the game in some other capacity.
"What is the point of Shark Cards, apart from to make you greedy bastards lots of money?"
– Tim (via Mouthoff)
The reason we included optional in-game currency in Grand Theft Auto Online, rather than directly selling DLC, was because it was the only way that we could distribute DLC without dividing the player base each time we brought out a new content pack, which would destroy the online community very quickly by splitting players up. Thanks to Shark Cards, we have been able to give away every piece of DLC so far for free in order to keep the community whole and give people options as to whether they want to earn new content by playing the game, buy new content with Shark Cards or simply don't get new content and still keep playing the game.
"What is the #GTAOnline Heist official release date?"
- @iCrazyTeddy
"Why are Heists taking so long?"
– Donny (via Mouthoff)
We aren't ready to give an official release date yet, but we are confident they will be ready early in 2015. As you may have read on IGN, Heists were a much bigger challenge to create than we had originally anticipated. Early versions were simply not good enough and had to be scrapped more than once as we honed in on how we thought they should work. We're happy to say that the pack we are now finalizing is something we are excited by and eager to release as soon as it is ready. We, as a company, have always been about trying to make something that is good rather than hitting a date. We apologize when this gets frustrating but firmly believe that rushing out second-rate content does not do anyone any favors. Hopefully you agree that yesterday's new Trailer is a sign that Heists are shaping up nicely, but we still need some time to fine tune them. Because we need a little time to get Heists right, we are going to give you a small Christmas gift to keep you entertained until we are done with them.

In the meantime, here are a couple of cool new screenshots to whet your appetite…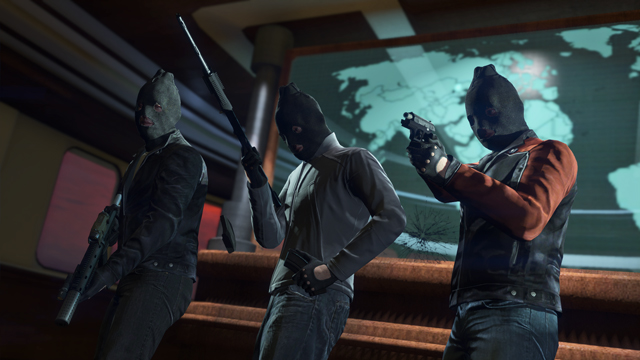 Tight coordination and teamwork will be necessary to fight your way to a big score.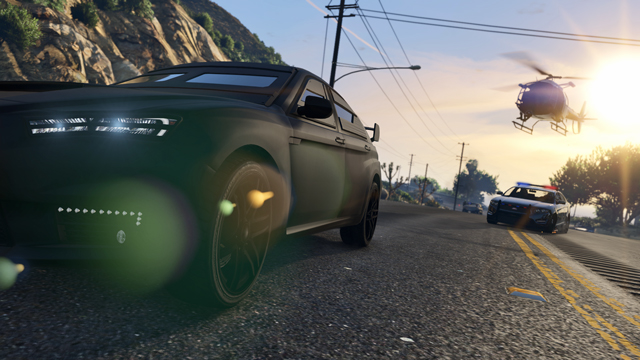 Tools of the trade. There will be new vehicles including the armored Karin Kuruma.
"Are Heists only for Xbox One and PS4?"
– IG:dodger_blue_ant
As previously confirmed, GTA Online Heists will be available to play on all four consoles: PlayStation 3, PlayStation 4, Xbox 360 and Xbox One – as well as for the PC.
"Now that you have GTAV out for next gen consoles, are you going to forget about the rest of us?"
- @BlackWolf468
Hi BlackWolf, certainly not as players on PS3 and Xbox 360 can look forward to Online Heists and other updates that are in the works coming soon. We are incredibly thankful to our original generation of GTAV and GTA Online players on those systems and wish to continue providing content to them for as long as we can. Of course, at some point in the future, there may be a point where we reach the limits for the previous generation of consoles as there may be some updates that are only technically possible on the new hardware – but we do hope to continue delivering as many updates as we can for all four consoles for as long as possible.
"Will you add snow to #GTAV this winter again? I missed it last time. Would be awesome: P"
- @zaetayo
"You guys gonna do an Xmas theme for GTAV again?"
- @Ryan_Heda
We prefer to keep such things as a surprise, but without giving away any details (no peeking under the tree!), we can say that we do have a few seasonal treats in the works for players on all four systems to enjoy this coming holiday season in GTA Online. Look for details on that very soon.
"Hi, please would it be possible to add or patch the ability to leave your car engine running when leaving a vehicle into the game?"
– Martin (via Mouthoff)
"Why are there no animals in GTA Online?"
- @joeny33
"Will the casino ever be available to us players to gamble our hard earned GTA dollars?"
- @TheGamer4_G
"Grand Theft Auto next-gen is almost the perfect game in my humble opinion… However I do have one suggestion, I would LOVE to see a Texas hold 'em and/or Blackjack mini-game… I would love to have the chance to gamble with my GTA dollars against AI and other players around the word. It would add yet another activity in the vast world that has already been created. Yours sincerely, a loyal fan."
– Scott (via Mouthoff)
We know that there is a never-ending community wish list for new content to be added to Grand Theft Auto Online. Not only do we truly appreciate that, as we've always said that the evolving world of GTA Online is as much yours (the players and residents of Los Santos and Blaine County) as it is ours – but we also need it and rely on it. Please keep your most wanted new features, updates, changes and tweaks coming via email to our official inbox at [email protected]; we are constantly checking this feedback for ways that we can improve the game. To date, your feedback sent there has been invaluable in helping shape the game to what it is so far, and we look forward to the collaboration continuing strong in 2015 and beyond.
"Can PS4 players play GTA Online with PS3 players?"
– IG:evil_gamer505
We absolutely love being able to push the boundaries of what can be done in a dynamic online world like GTA Online, but certain things are not technically possible right now and this is one of them. Unfortunately, there is no technical way that we could enable players to play in the same lobby with one another across different types or generations of game consoles. It is also impossible to enable PC players to join console-based lobbies.
"After the #GTAV reboot, how about a #RDR reboot?"
- @SlyFoxC
"#GTAV on #XboxOne is seriously the pinnacle of awesomeness mountain. Now can we please get a Red Dead sequel please @RockstarGames?"
- @FRYMANATION
"So if you're going to keep making GTA, why not keep making Red Dead Redemption?"
- @Austin_Lawson32
It's wonderful to see so much excitement and enthusiasm for the Red Dead series, and nearly 5 years after Red Dead Redemption's release(!). As we've mentioned when asked in the past about new games in other series such as Red Dead Redemption, Bully and L.A. Noire, we don't always rush to make sequels, but that does not mean we won't get to them eventually. We have so many games we want to make and the issue is always one of bandwidth and timing. We thank longtime fans such as yourselves as always for your amazing support and please stay tuned in 2015 for announcements of what's to come from Rockstar Games.
"I was wondering if I could also [transfer] my [GTA Online characters and progress] from Xbox 360 to PC? Because I had a lot of nice cars on my Xbox 360 but I want to play on my PC, not start over to get all my cars. Is that possible?"
– Luuk (via Mouthoff)
"Hello, wanted to ask about Online character progress transfer. I read on your Support site that it can be done only once. So my question is, I have a level 200 character on my PS3, I want to buy the PC version but think Santa might bring me the PS4 version. If I transfer my character to PS4, does that mean I am not allowed to transfer to PS3 character to the PC version when it ships next month?"
– Tommy (via Mouthoff)
Not to worry, you will be able to transfer your Online characters and progress from any of the four consoles (PS3, PS4, Xbox 360 or Xbox One) to the PC platform. To be clear, if you transfer or have already transferred your progress from PS3 or Xbox 360 to either PS4 or Xbox One, then you will still be able to do another transfer again from PS4 or Xbox One to PC. We have updated the detailed transfer information article at Rockstar Support to account for this.
"Dear friends at Rockstar, I would like to know what's going on Grand Theft Auto V for PC…"
– Alli (via Mouthoff)

Hi Alli, we're presently in the final stages of development on the PC version of Grand Theft Auto V and hope to have confirmed official system requirements to share soon here at the Newswire, please stay tuned for that to be announced in the coming week. Thank you and we're very excited to bring GTAV to the PC gaming community!
That's all for now. Keep in touch with Rockstar Games for answers to other questions or hit up the comments below and we may be able to help you. Don't forget to join the discussions in the
forums
where you can find other answers to questions too!
---
Comments (4)
---
Make A Comment
Sorry, comments have been disabled for this article.