Be My Valentine Event, New Adversary Mode
Posted by TreeFitty February 12, 2016 : 0 Comments : 6,925 Views
First up, head into GTA Online this weekend to take part in the Be My Valentine Event Weekend. There's plenty of bonuses, discounts, and more fun to be had. Don't forget that in addition to the brand new Albany Roosevelt Valor and items from GTA Online: Be My Valentine, all of the content from the previous Valentine's Day update - including the original Roosevelt and the Gusenberg Sweeper machine gun - are available for all platforms (and on PS4, Xbox One and PC for the first time). More info below...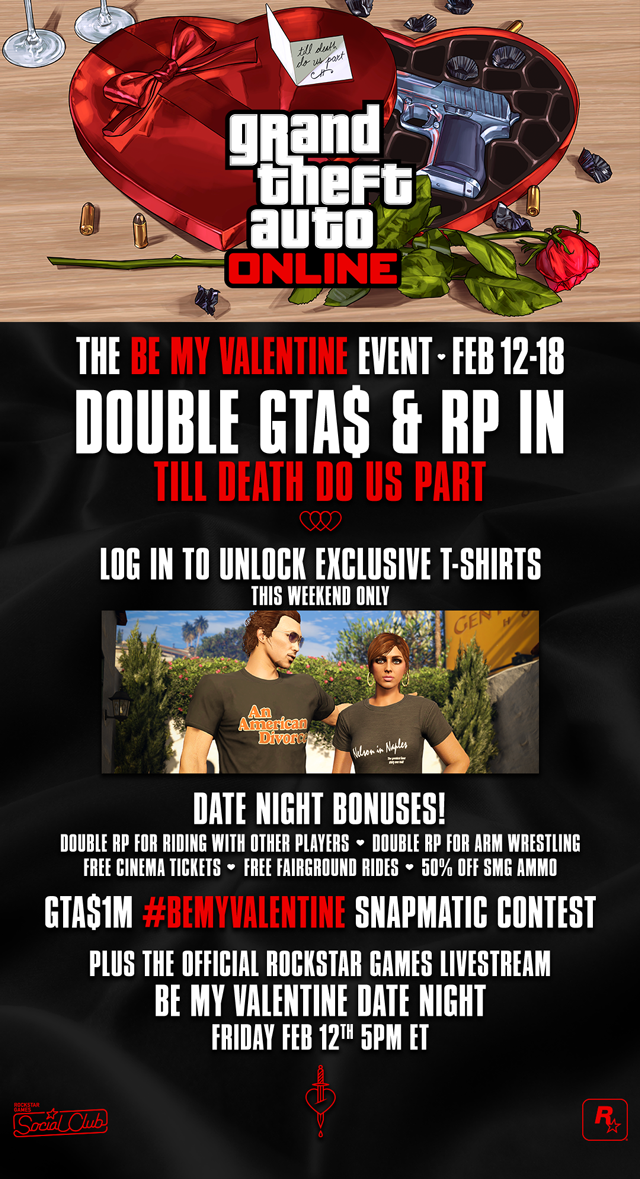 DOUBLE GTA$ & RP IN TILL DEATH DO US PART
We all know the price of pleasing your true love on this day of romance can sometimes be costly. Prepare accordingly with Double GTA$ and RP in the
brand new Adversary Mode Till Death Do Us Part
(more info at the bottom of this article). Work for each other, because if one goes - you both go. You'll either be skipping away down Lover's Lane, or laying like lovers slain.
DOUBLE GTA$ & RP VALENTINE'S DAY EVENT WEEKEND PLAYLIST
An effective, guaranteed way to see that Double GTA$ and RP roll in is by joining the Till Death Do Us Part Playlist, accessible via the single button press on the GTAV launch screens. This week you will not only earn Double GTA$ & RP while playing, but you'll also unlock a Firework Launcher and Fireworks if you complete the entire Playlist - ensuring date night ends with a bang.
DOUBLE RP OPPORTUNITIES
Valentine's is no time to be alone, and this week's Double RP bonuses will give you every opportunity to get up close and personal with a new flame. Whether you're riding together in a vehicle or staring into each other's eyes as you Arm Wrestle, you'll be ranking up twice as fast.
50% OFF ALL SMG AMMO
While it may be presumptuous to go into a romantic evening with certain expectations, you should always be prepared. All week long head on over to Ammu-Nation for 50% off all SMG Ammo to ensure you have proper protection and your Gusenberg Sweeper always has one in the chamber.
FREE ADMISSION TO THE MOVIES AND SELECT RIDES
Looking for someplace dark and intimate to canoodle with your beloved? Tivoli Cinema, the Ten Cent and Oriental Theaters are honoring free admissions during this time period, allowing you to watch mood-setting classics such as Meltdown and Capolavoro to your heart's content. Public displays of affection more your thing? Head on out to Del Perro Pier where the Ferris Whale and Leviathan roller coaster will heighten thrills and excitement for the same exact deal.
EXCLUSIVE UNLOCKABLE T-SHIRTS
Get dolled up, fresh and looking your best for your big Valentine's date with a pair of exclusive tees available only this Saturday & Sunday on PS4, Xbox One and PC. Log in anytime tomorrow Saturday February 13 to receive the "Nelson in Naples" t-shirt, and on Sunday February 14 to experience the full gamut of love and heartache with "An American Divorce" t-shirt.
#BEMYVALENTINE SNAPMATIC CONTEST THIS WEEKEND
Pull out that iFruit and document your love for the official #BEMYVALENTINE Snapmatic Contest. The five Snapmatic photogs whom best capture the essence of the new Be My Valentine content, from the sexy lines of the Valor to the plethora of new clothing, will each reach receive a cool GTA$1,000,000. Valid entries must be received before end-of-day Sunday February 14th and have the "#bemyvalentine" tag on Social Club.
Visit here for official rules
.
VALENTINE'S SOCIAL CLUB SWEEPSTAKES
Want for the same passion in real world as you'll inevitably get in GTA Online this week? Try and get lucky in our Social Club gear giveaway where lots of goodies are up for grabs. Set the mood just right with a package that screams "be mine": the Epsilon Candle scented with orange blossom, the Epsilon Pendant to put around the neck of your sweetheart and lay claim, the Loneliest Robot Greeting Card for you to express every intimate thought, a copy of the official Grand Theft Auto V Soundtrack to let your partner know you mean business and an assortment of Rockstar and GTAV stickers to sweeten the deal. Head on over now to the
Social Club Events Page
for your lucky chance.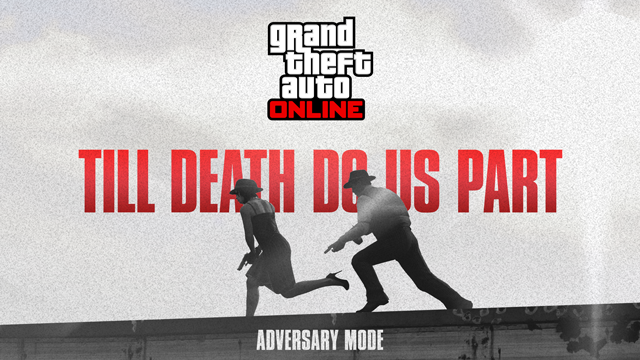 Next, in addition to all that above Rockstar has released a new Adversary Mode
Till Death Do Us Part
- a brand new GTA Online Adversary Mode. Up to four pairs of star-crossed lovers take part in the ultimate GTA Online quadruple date: each couple has one life between them, and if one half dies, the survivor then takes their own life in dramatic fashion. Additionally, you'll get Health regeneration bonuses when you stay close to your partner, so get cozy.
You can play the new Adversary Mode in five different romantic locations (easily selectable via the Adversary Modes section of the GTA Online pause menus) or jump in to a Featured Playlist with a trio of locations by hitting the button on the GTAV launch screens.
Enjoy and find your next partner in crime in the
forums
!
---
Comments (0)
No comments have been made on this article. Complete the form below to make a comment.
---
Make A Comment
Sorry, comments have been disabled for this article.