Black Friday Weekend Sales: GTAO & RsWarehouse
Posted by TreeFitty November 27, 2013 : 0 Comments : 7,758 Views
Rockstar Games is celebrating the American holiday this weekend - not really Thanksgiving but more Black Friday. Catch deals in both Grand Theft Auto Online as well as in real life at the
Rockstar Warehouse
. More details below...
Grand Theft Auto Online Deals
After you've recovered from gatherings with dysfunctional family members, participating in unplanned scuffles in department stores over drastically discounted kitchen appliances and engaging in wanton acts of mass poultry consumption, sneak back to Los Santos where a host of GTA Online items will be discounted this holiday weekend.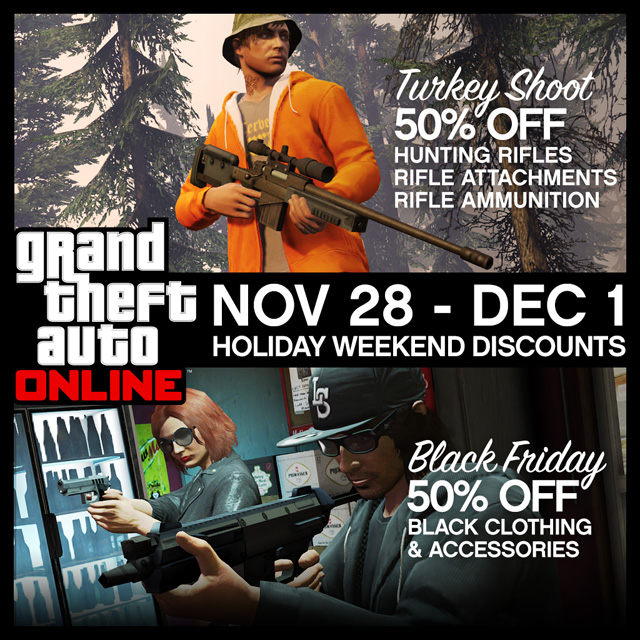 Turkey Shoot
Targeting your elusive bounty for the holiday table shouldn't cost an arm and a leg.
50% Off "Hunting" Rifles: Assault Rifle, Carbine Rifle, Advanced Rifle, Heavy Sniper, Sniper Rifle
50% Off All Rifle Attachments
50% Off All Rifle Ammo
Black Friday Sale
Color-coded Discounts are the new black this season.
50% Off Select Black Colored Clothing & Accessories, including: jewelry, ties, shirts, vests, jeans, pants, board shorts, dresses, skirts, chinos, shoes, flip-flops, cargo pants, t-shirts, tracksuits, tank tops, hoodies, polo shirts, skate shoes, oxfords, boots, masks, ear defenders, hats, beanies, bandanas, helmets, glasses and much more.
50% Off Select Black Colored Vehicle Modifications: window tinting, black tire smoke, black license plates
These Grand Theft Auto Online deals start tomorrow, Thursday, Novermber 28th and all throughout the holiday weekend until the end of day on December 1st.
Rockstar Games Warehouse
When you're done fighting through the mayhem at Rockford Plaza or indulging in GTA Online's Thanksgiving-themed discounts at Ammu-Nation and Los Santos Customs, hit up the
Rockstar Warehouse
for their annual Black Friday Sale.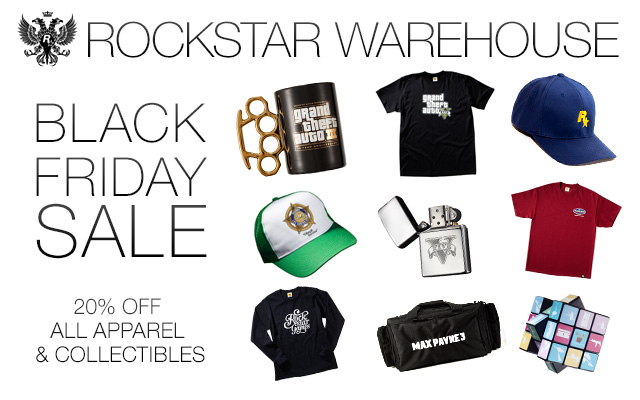 Rockstar is offering a special
20% off discount
on all collectibles and apparel. This includes all the latest Grand Theft Auto V gear like the Zippo Lighter and Bugstars Logo Tee, plus everything from classic titles like Red Dead Redemption and their entire inventory of Rockstar Games branded shirts & apparel.
This offer starts on Friday morning at 12:01am Eastern Time US and ends at 11:59 PM Monday night.
Awesome deals! See you online and join us in the
forums
!
---
Comments (0)
No comments have been made on this article. Complete the form below to make a comment.
---
Make A Comment
Sorry, comments have been disabled for this article.