Further Adventures in Finance and Felony Out Now
Posted by TreeFitty June 07, 2016 : 0 Comments : 5,285 Views
Continue your mission to become the ultimate criminal kingpin of Los Santos and Blaine County in GTA Online: Further Adventures in Finance and Felony, now available on PlayStation 4, Xbox One and PC. As CEO, you'll enjoy all the special abilities of being a VIP, plus access to a whole new frontier of black market opportunities with SecuroServ's patented Special Cargo Network, allowing you to buy and sell illegal goods across a city-wide empire.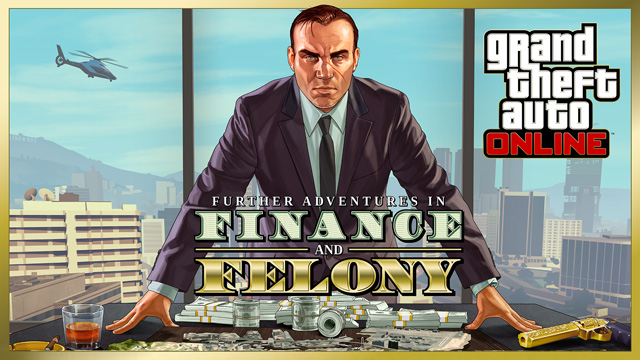 THE EXECUTIVE SUITE
To get your operation up and running, you'll need an executive office fitting the title along with a skillful team of hired Associates. Dynasty 8 Executive Realty, in partnership with SecuroServ, now have a new line of deluxe office suites specifically for the motivated career criminal. These masterpieces in executive design come with a full-time assistant, helipad, boardroom, Don't Cross the Line arcade game, and optional storage space like the Gun Locker, allowing you to personalize your perfect weapon loadout before you go on the job.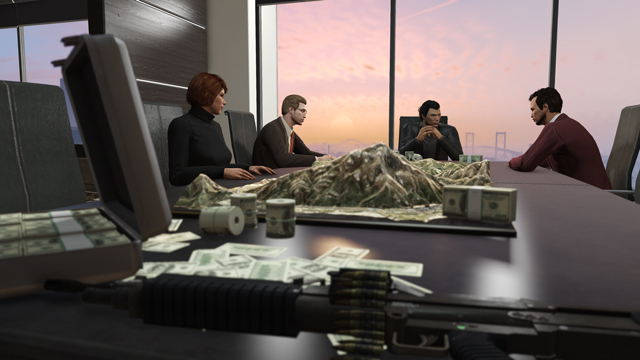 An executive office also includes private access to the SecuroServ Special Cargo Network, which you'll use to invest in Warehouses and traffic rare and exotic product throughout the city. Warehouses store all Special Cargo and storage space is valuable; manage your inventory wisely and maximize your margins by selling when the prices are right.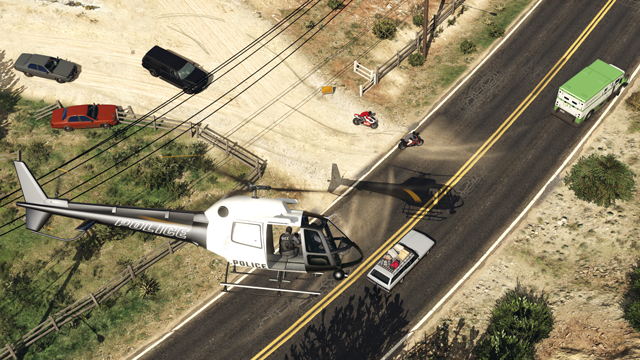 BUY AND SELL SPECIAL CARGO
Buy missions require skill from a coordinated team of Associates to successfully pull off. Missions are grouped into three categories that increase in difficulty based on how many crates of contraband you intend to purchase and how much risk you are willing to take on. With greater risks – whether from the FIB, LSPD or rival player Organizations – come greater rewards.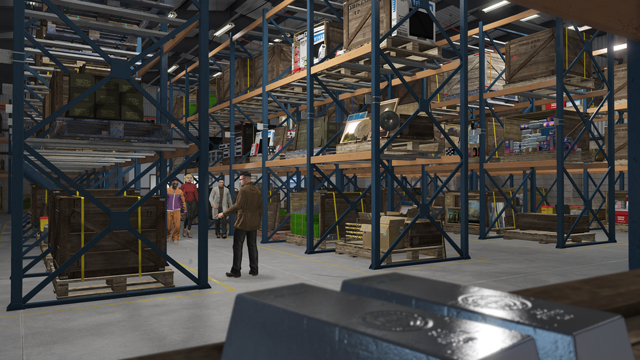 Accumulating inventory will drive demand in the market. When the time comes to sell, you'll have various offers to choose from based on your inventory. Sell missions require constant vigilance; keep your eyes peeled as the job isn't over until all of your Cargo is safely transported, and destroyed Cargo can eat into your profits.
DEFEND YOUR WAREHOUSE
Major players attract attention and warehouses stocked with high volumes of valuable goods won't stay secret for long. Act quickly to avoid losing a percentage of your Special Cargo in surprise attacks from resident gangs of Los Santos.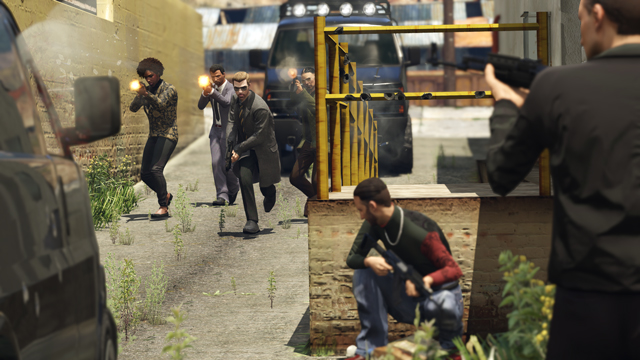 NEW VIP WORK & CHALLENGES
CEOs will enjoy all of the perks of being a VIP, including access to new sources of illicit funds and challenges.
VIP Work
•Headhunter: Assassinate key targets across the map against the clock.
•Airfreight: Liberate some valuable cargo from its armed guard and fly it to safety.
•Haulage: Be the first to deliver a trailer full of tax-exempt merchandise to its wrongful owner.
VIP Challenges
• Cashing Out: Be the pack leader in the latest wave of ATM fraud to hit the streets of Los Santos.
• Salvage: Compete to retrieve the most lost cargo from the ocean floor.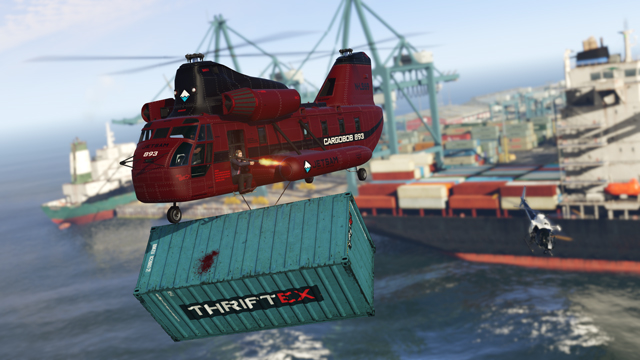 NEW VEHICLES, ATTIRE & WEAPON ATTACHMENTS
Do you have a taste for the brutally fast, the brutally efficient or the just plain brutal? Whatever your preference, the latest wave of NEW transport options is bound to hit your sweet spot. From the monstrous HVY Brickade available at Warstock Cache & Carry and menacing Bravado Rumpo Custom from Southern San Andreas Autos, to the new generation of Super and Sports cars now in stock at Legendary Motorsport like the Pegassi Reaper, Vapid FMJ, Grotti Bestia GTS and Enus Windsor Drop, to the luxurious and speedy Buckingham Nimbus and Volatus from Elitas Travel and even the hulking Tug available on order from DockTease, getting from A to B has never looked and felt this good.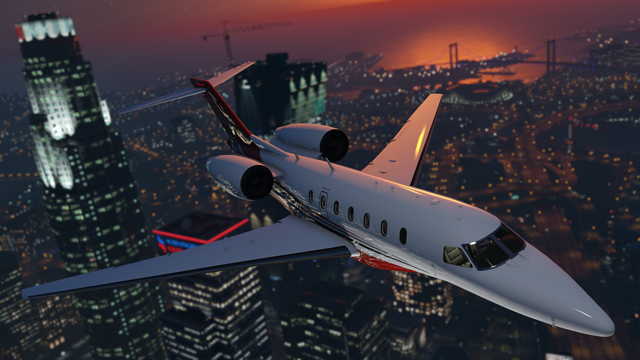 Previously exclusive VIP and bodyguard clothing plus all-new SecuroServ branded merchandise are also hitting the clothing racks in Los Santos. Whether you want your first impression to be a sophisticated crime lord or a gorilla for hire, there's something just right for you. And nothing wrecks an otherwise solid Special Cargo mission like running short on ammo. Unleash a barrage of bullets from a range of weapons by grabbing Drum & Box Magazine attachments from your local Ammu-Nation.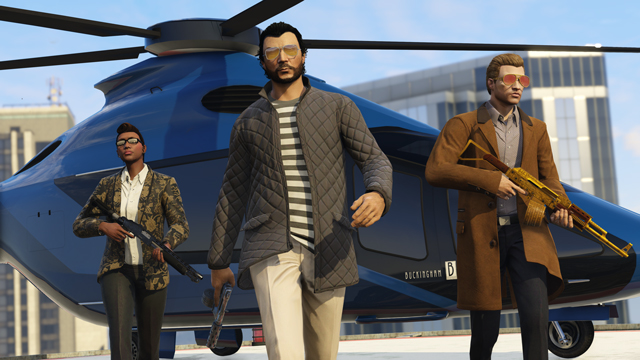 NEW TRADING PLACES ADVERSARY MODE
In the land of the Haves and the Have-Nots, this Adversary Mode is your chance to engage in some aggressive social climbing. The Winners team is destined for success, the Losers team is doomed to fail, and there's only one way to move between the two: ruthlessly murder a Winner and take their place. There's also Double RP to benefit from this week when trying out this new Adversary Mode, compliments of the Playlist that's available directly from the GTAV boot screen.
EVENT WEEK BONUSES (JUNE 7TH - 13TH)
Establish some concrete foundations for your burgeoning Organization by profiting from the Further Adventures in Finance and Felony Bonus Week, starting today and running through to Monday, June 13th. Unlock the Pastel Green Pajamas and Pastel Green Smoking Jacket just by logging in to GTA Online this week, plus get 25% off the Buzzard Attack Chopper from Warstock Cache & Carry as well as all services from both Lester and Merryweather Security – key assets for trafficking your Cargo under duress or keeping your Organization off the grid. And equip your Organization fittingly with 25% discounts at Ammu-Nation across a large range of munitions and armaments, including:
• Carbine, Assault and Compact Rifles
• Machine Pistol
• SMG
• Heavy Shotgun
• Combat PDW
• All Ammo
• Weapon Tints and Etched Finishes
• Body Armor
• Parachute Bags and Canopies
SOCIAL CLUB SWEEPSTAKES
An Executive office is not complete without being donned with spoils of crime. Try your luck in the Social Club Executive Merchandise Sweepstakes featuring tons of paraphernalia fit for a criminal kingpin. Hang your very own GTAV Air Freshener in your ride while wearing a slick Grotti Polo and blaring your GTAV Vinyl Soundtrack, light up a fat cigar with the official GTAV Chrome Zippo, spruce up your office desk with a GTAV Gold Bar USB, iFruit Mouse Pad, and Epsilon Paper Weight, and transform your fridge into a safe for all that cold hard cash with the GTAV Kitchen Timer. Head over now to the
Social Club Events Page to enter
.
GTA$1M CEO SNAPMATIC CONTEST
Celebrate your climb up the corporate criminal ladder with proper photographic documentation, and add a cool GTA$1M to your asset portfolio in the CEO Snapmatic Competition. Eligible photos must be published between today and the end of the day on Monday, June 13th - and must feature content from Further Adventures in Finance and Felony. Also, make sure to tag your photo with "CEO" on Social Club.
Full rules here
.
OFFICIAL LIVE STREAM BROADCAST THIS FRIDAY
On Friday, June 10th at 5pm ET, join in at either the official Rockstar Games
Twitch
or
YouTube
channel for a live stream featuring Further Adventures in Finance and Felony, hosted by the Rockstar Broadcast team and featuring special guests to be announced.
Enjoy!
---
Comments (0)
No comments have been made on this article. Complete the form below to make a comment.
---
Make A Comment
Sorry, comments have been disabled for this article.