GTA Online Criminal Expansion Weekend
Posted by TreeFitty June 03, 2016 : 0 Comments : 6,346 Views
In preparation for the arrival of Further Adventures in Finance and Felony this coming Tuesday, put your Organization on the map with all manner of heavily discounted vehicles, weapons and more from
Executives and Other Criminals
during the Criminal Expansion Weekend in GTA Online - now through end of day this Monday, June 6th. Read on for full details...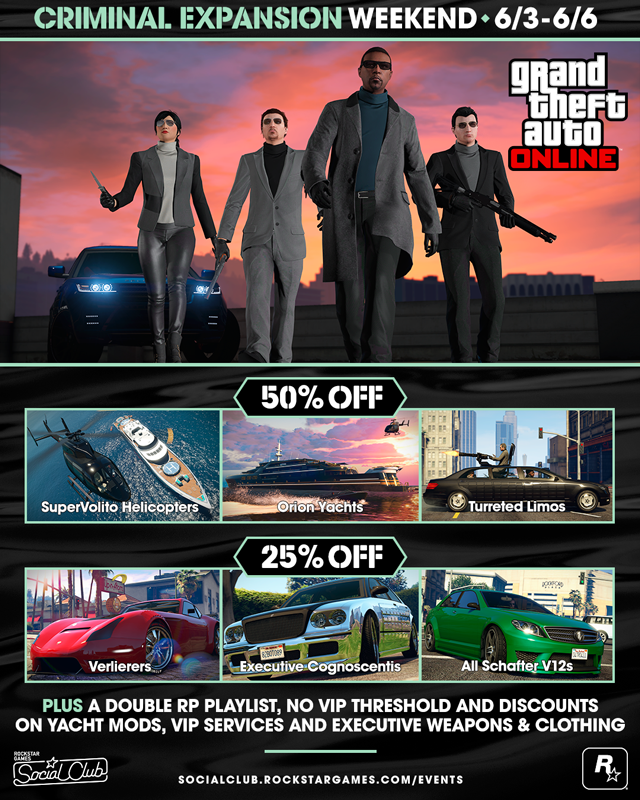 ORION YACHT + MODIFICATION DISCOUNTS AT DOCKTEASE
DockTease has some generous offers happening this weekend, beginning with 50% off the Orion Yacht.
And when it comes time to customize your treasured luxury vessel, no matter which model you have purchased, you will receive 25% off ALL Yacht modifications.
Looking to move your Yacht to a different location, closer to the action or to your own private oasis? Enjoy free Yacht transports through end-of-day Monday.
50% OFF ALL SUPERVOLITOS
When your time as a VIP is too precious and you need to get where you are going by way of the friendly skies, purchase the extravagant SuperVolito and SuperVolito Carbon at half price this weekend, compliments of Elitas Travel.
50% OFF TURRETED LIMO
Travel as a pack with your squad by way of the Turreted Limo from Benefactor - also now available at 50% off. Whether taking on a rival Organization in an Executive Deathmatch or a Hostile Takeover, this armed and armored ride available from Warstock Cache and Carry will do the trick.
SECUROSERV DISCOUNTS
SecuroServ is offering a small business incentive-like program this weekend for all you up-and-coming entrepreneurs. In addition to no VIP threshold, you will be getting VIP Services at half cost - from Ammo and Armor drops to vehicle ordering and more. Perfect for any start-up VIP.
25% OFF SELECT VEHICLES AT LEGENDARY MOTORSPORT
Take advantage of a flat 25% discount on several vehicles from Executives and Other Criminals, available all weekend via Legendary Motorsport. You will find price drops on the sleek and sporty Verlierer, all four variants of the Benefactor Schafter (including LWB, Armored LWB, V12 and Armored V12) as well as four models of the luxurious Cognoscenti (the standard, Armored, 55 and 55 Armored).
50% OFF ALL EXECUTIVES AND OTHER CRIMINALS WEAPONS
Ammu-Nation is also giving incentives to upper crust criminals with half off the Heavy Revolver and Switchblade. Hit up any location for discounts on these particularly effective weapons.
25% OFF SELECT CLOTHING
Run your empire in both style and comfort with 25% off select Executives and Other Criminals clothing. All clothing retailers will be honoring this discount on all Smoking Jackets, Robes and Pajamas for the entirety of the weekend.
DOUBLE RP PLAYLIST
All weekend long, accumulate Double RP in an Adversary Modes Playlist. Upon cue at the GTAV launch screens, go directly into this special Playlist which features Extraction III, Inch By Inch IV and In and Out II.
Enjoy and hit up the
forums
!
---
Comments (0)
No comments have been made on this article. Complete the form below to make a comment.
---
Make A Comment
Sorry, comments have been disabled for this article.