GTA Online Friend Assist Discounts, RS Warehouse Sale
Posted by TreeFitty August 30, 2014 : 0 Comments : 10,783 Views
First up, a bit of a random bonus. This week calling for support from notorious friends in high places in GTA Online just got more affordable. So if you find yourself in need of backup, air support, transport or just need to disappear for a while, dial up any of your allies for a little "Roadside Assistance" and get 50% off the normal price.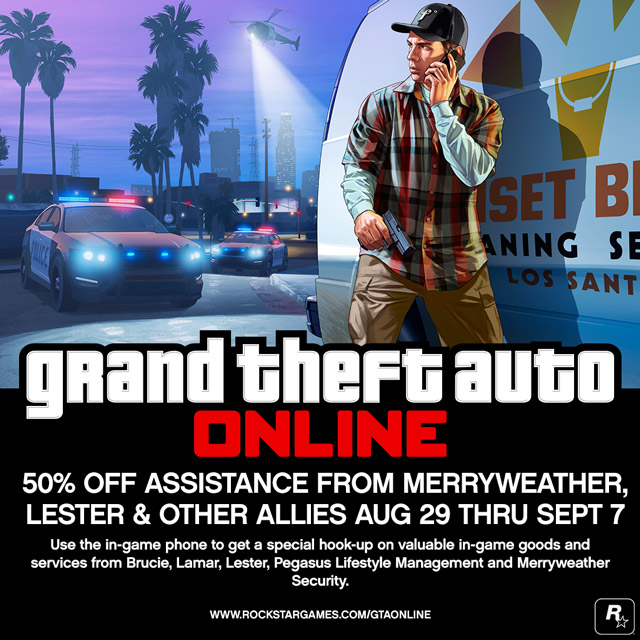 Rank requirements for these discounted services have also been removed but note that you will need to have received at least one call from each contact in order to use their service.
Brucie: Stay alpha with Brucie's BullShark Testosterone, which doubles damage inflicted and halves damage received.
Lamar: Call up Lamar and he'll send a mugger after any one of your chosen adversaries who'll lighten their wallet by stealing a portion of their cash.
Lester: One of Los Santos' most connected criminals, Lester can help you avoid the fuzz by persuading them to turn a blind eye for a short period of time or clearing your wanted level. He can also locate transportation (cars, boats, planes and helicopters) or play tricks with the radar - revealing other players or masking your location temporarily. Lester's normal GTA$1,000 fee for setting bounties on other players has also been slashed to GTA$500.
Pegasus: Retrieve personal vehicles from Pegasus Lifestyle Management and have them delivered to your location.
Merryweather: Access all the paramilitary services that Merryweather Security Consulting has to offer at this reduced rate, including ammo crate drops, helicopter backup, boat/helicopter pickup, airstrikes and even your own private army of vengeful mercenaries.
These services can all be accessed via the
Contacts
menu on your GTA Online character's in-game phone. Discounts run until September 7th.
---
Next up, end of summer blues got you down? Get up and drop some cash at the
Rockstar Games Warehouse
for their End of Summer Sale. Get 25% off of your favorite apparel and collectibles from some of their most popular games. The sale runs through Monday, September 8th, so you have a little over a week to take advantage.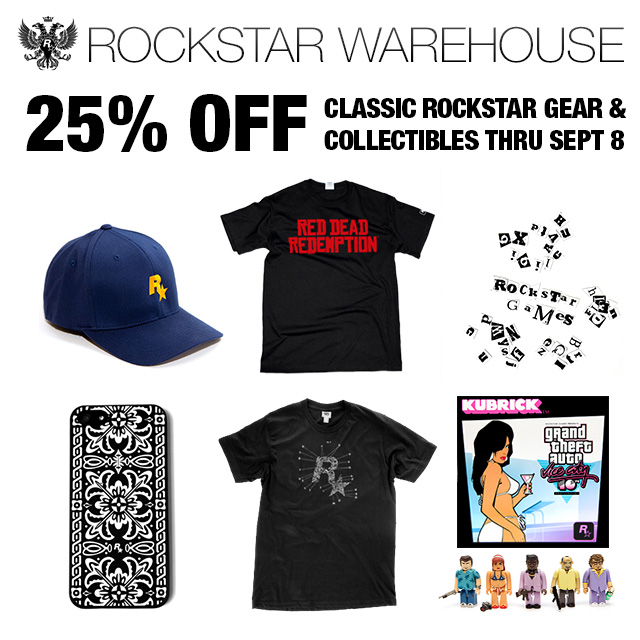 Rock a bit of the old school with a tee from the Red Dead Redemption Frontier Collection, or raid the Posters section to wallpaper your bedroom on the cheap with vintage snipes available from Manhunt, Red Dead Revolver, and the original Max Payne. Get ready for the end of summer holidays now, and stock up for the fall with some Original Soundtrack CDs, Caps, Kubrick Box Sets and a whole lot more.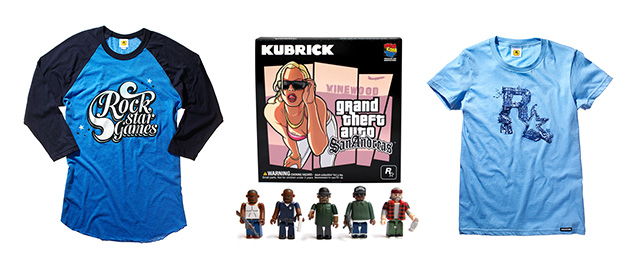 NOTE:
This offer is valid on rockstarwarehouse.com only. Offer does not include any games or GTAV gear or collectibles. Offer does not apply to previous purchases, credits, or gift cards. Discount applied before shipping and taxes are added (if any). Offer valid through Monday, September 8th, 2014, 11:59pm Eastern Time US. ET is local time in New York City, USA. Offer cannot be redeemed for cash. Details of offer are subject to change and may be canceled without notice.
Enjoy and join the fun in the
forums
!
---
Comments (0)
No comments have been made on this article. Complete the form below to make a comment.
---
Make A Comment
Sorry, comments have been disabled for this article.