GTA Online Sabre Week
Posted by TreeFitty April 16, 2016 : 0 Comments : 5,330 Views
The Declasse Sabre Turbo will be rolling into Benny's Original Motorworks next Tuesday, April 19th, and once again you can rack up some GTA$ and RP ahead of time starting right now through next week Thursday, April 21st. The imposing Declasse Sabre Turbo Custom will be available for Benny's signature styling, with a wide range of impressive upgrades to choose from - whether it's hefty V8 engine blocks or glorious interiors and liveries designed to make a lasting impact.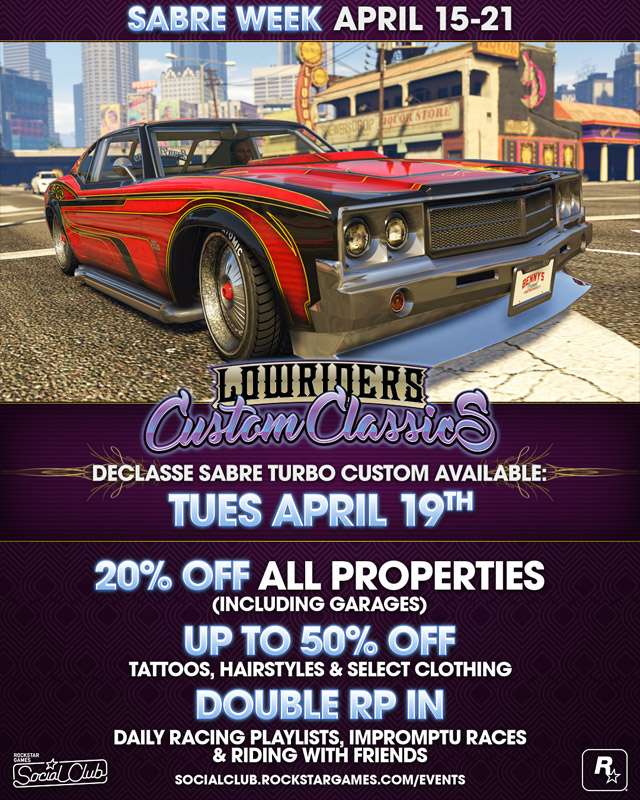 20% OFF ALL PROPERTIES (INCLUDING GARAGES)
If the new Declasse Sabre Turbo Custom has caught your eye, or a week spent racing other desirable vehicles has given you a taste for some new fast wheels, you might be considering additional homes and garages for your growing collection. Capitalize on 20% off new Properties to accommodate any shiny, high-octane new toys coming your way.
50% OFF TATTOOS & HAIRSTYLES
Get your hair did or give your skin some style - all for half the price!
25% OFF SELECT LOWRIDERS CLOTHING
Make sure you're looking the part during the week's fuel-injected activities with a cool 50% off all Tattoos and Hairstyles and 25% off select Lowriders Clothing - to make sure you're looking as fresh as your custom livery.
DOUBLE RP PLAYLISTS ALL WEEK
There's Double RP waiting for those keen to get behind the wheel with this week's Playlists, launchable directly from the GTAV boot screens. For those looking to road test their new Sabre Turbo Custom on Tuesday, don't miss out on the Lowriders Street Racing Playlist - ideal for putting the Turbo through its paces:
• Friday 15th - Sunday 17th - Super Car Racing
• Monday 18th - Tuesday 19th - Lowriders Street Racing
• Wednesday 20th - Thursday 21st - Mixed Road Racing​
ADDITIONAL DOUBLE RP BONUSES
Double RP bonuses are also available outside of the Racing Playlists. Impromptu Races will yield the twice the RP for anyone wanting to challenge other Freemode petrol-heads and if you're feeling up for some company on your speedy road trips, rake up Double RP when riding with friends and other players as well – the more players in a vehicle, the quicker you'll all earn RP.
FREE MECHANIC SERVICES
Property owners will benefit from the pro-bono assistance of your friendly personal Mechanic during this period. Daily fees from the Mechanic are completely waived this week, so make the most of your time on the road.
BIG GTA$ REBATES
Get what you want faster - with GTA$ cash-back rebate bonuses available until Thursday, April 21st. This week only, purchase a Bull, Great White, Whale or Megalodon Shark Card and receive free bonus GTA$ - the bigger the card value, the heftier the GTA$ rebate you'll get. Cards purchased between Friday, April 15th and Thursday, April 21st qualify, and all the bonus GTA$ you earn during that period will be automatically deposited as one lump sum in your in-game Maze Bank Checking account by Friday, April 29th. You can purchase Shark Cards in-game or via your favorite online or local retailer. Spend wisely, cash therapy is fleeting.
More details
.
Enjot and join the fun in the
forums
!
---
Comments (0)
No comments have been made on this article. Complete the form below to make a comment.
---
Make A Comment
Sorry, comments have been disabled for this article.