GTA Online Sunday Drivers Week
Posted by TreeFitty September 02, 2016 : 1 Comments : 6,245 Views
Roll the Los Santos streets during Sunday Drivers week in GTA Online, an opportunity for all you riding low to earn Double GTA$ & RP in a special, Muscle car racing Playlist now through Thursday, September 8th. In order to look fresh and remain competitive, cruise down to Strawberry where there are all kinds of discounts happening at Benny's Original Motor Works, starting with 50% off all upgrades. Additionally, there's a brand new Premium Stunt Race this week and you can unlock the Bahama Mama's Tee just by logging in to GTA Online. More details below...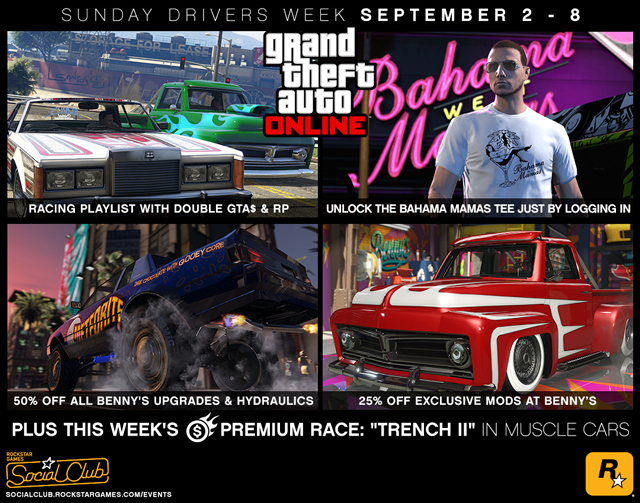 DOUBLE GTA$ & RP MIXED RACING PLAYLIST
Beginning today, jump into a custom Playlist featuring a trio of Races locked to the Muscle class, and earn Double GTA$ and RP:
• Ring of Fire
• Stock Market Crash
• Up the Back Alley
​
50% OFF UPGRADES & MORE DISCOUNTS AT BENNY'S
Give yourself the edge you need in that Double GTA$ and RP Playlist and stack your Muscle with half off all Benny's Upgrades this week. Also look out for generously slashed prices on everything from Hydraulics to Wheels:
• Benny's Upgrades - 50% Off
• Hydraulics - 50% Off
• Liveries - 25% Off
• Neon Kits - 25% Off
• Interior mods - 25% Off
• Plateholders - 25% Off
• Vanity Plates - 25% Off
• Engine Bays - 25% Off
• Air Filters - 25% Off
• Bumpers - 25% Off
• Fenders - 25% Off
• Chassis - 25% Off
• Roofs - 25% Off
• Trunks - 25% Off
• Wheels - 25% Off
​
UNLOCKABLE BAHAMA MAMA'S TEE SHIRT
Bounce around town as a human billboard with the Bahama Mamas Tee, unlockable all week long. Just by logging in, you'll get the party started right with this shirt.
​
PREMIUM STUNT RACE: "TRENCH II"
This week's featured Premium Stunt Race is Trench II. Set to Muscle, ride the highs and lows of this Grand Senora Desert-based track all week and earn Triple RP just for giving it a whirl. Better yet, the top three podium finishers earn GTA$100,000, GTA$30,000 and GTA$20,000 respectively. Use the Quick Job App on your in-game phone or enter the yellow Premium Race blip at Legion Square and get racing.
Enjoy and hit up the
forums
!
---
Comments (1)
---
Make A Comment
Sorry, comments have been disabled for this article.