GTA V Frequently Asked Questions (May 2012)
Posted by TreeFitty May 31, 2012 : 66 Comments : 58,485 Views
Another slow month for juicy GTA 5 information but we'll try to answer more burning questions from the fans with another Frequently Asked Questions article where we'll go over the many queries we're sent and try to bring everyone up to date with the latest information and rumors about Grand Theft Auto V. Check out the March edition
here
.
Many of the questions are impossible to answer at this time, given that we have very little information about the game so far, but if you have any questions you'd like us to answer, you can Tweet Us (
@iGTA5
), Facebook us (
iGTA5
), create a comment below or send us an email (
submit[at]iGTA5.com
).
When is the GTA V Release Date?
There is still
no information
as to when Grand Theft Auto V will be
released
. As we've been stating,
release dates given by retailers are only guesses
entered into their systems. Of course we are trying to stay current with Rockstar and Take-Two trends so let's take a look at some things that may give us a clue to the actual release date...
1. Rockstar North character animator
Alex O'Dwyer had his CV posted online
. In it he listed Grand Theft Auto V with an October 2012 release date. It was later removed but has all of us wondering if that's the current release period or if that was only an estimate.
2. Recently Rockstar revealed that
Max Payne 3 DLC
is set to extend all the way to the end of this year. Obviously Rockstar would like to sell as much DLC as possible so they probably wouldn't want GTA V stepping on it all. This puts the game into 2013.
3. A few months ago the
ESRB rated Grand Theft Auto III and Vice City for the PlayStation 3
. Rockstar has yet to say anything about this. The 10 Year Anniversary of
Vice City
is later this year so they will likely be busy with that and the re-release on current consoles would be icing on the cake. As such, Fall 2012 seems less likely for GTA V. It can also be noted that the San Andreas 10 Year Anniversary will be in 2014. This leaves 2013 without major Grand Theft Auto news.
4. BioShock Infinite (Irrational Games, 2K Games) was set to release this October. Although not directly involving Rockstar Games, parent company Take-Two would probably want to space out major titles and that wouldn't allow GTA V into Rockstar's previously favorite October release or nearby. Earlier this month BioShock was delayed to February 2013. This opens up the fall a little bit for GTA V but will it be enough given the above points?
5. In recent financial talks, Take-Two is expecting high revenues and good stock price in the fiscal year ahead that ends March 2013. A few analysts are expecting GTA V in some form in order to meet Take-Two's financial expectations - possibly a release by April 2013.
Some interesting points and likely more to come! Don't forget to enter our
GTA 5 Release Date Competition
for a chance to win your very own copy of the game!
GTA V on PC?
We are certain Grand Theft Auto V will release on PC. Many fans are familiar with the PC version of
GTA IV
. The console port was not as smooth as we all would have hoped for. Fortunately Rockstar Games seems to have learned from past mistakes. The PC version of Max Payne 3 was built alongside the consoles to provide excellent playability across a wide range of computers. We are certain GTA V will do the same and possibly release only two weeks after the consoles as well! PC requirements for the game will not be known until a couple weeks before the release.
Will CJ or other characters return?
It is unknown if characters from GTA IV will return to GTA V. We are certain CJ and others from the III era
will not be
. Shortly after
our last FAQ
the voice of CJ, Chris Bellard, stated on twitter that
he is not involved with GTA V
. Furthermore, Rockstar has
stated their views on the different sets of characters
and the difference between background characters and "real" characters:
"El Burro is referenced as he was also referenced in GTA 1, so it felt appropriate that he should cross 'universes' – the 'universes' are the worlds interpreted at different definitions, 2d, 3d and high definition, so we felt brands and radio / back ground characters would exist in both, but 3 dimensional characters would not. This is the logic (as far as it could be considered logical) behind it – so no, we don't believe any GTA3 characters could exist in the GTA4 universe."
So again, it is unlikely we'll see CJ in GTA V. Other supposed "leaks" featuring characters or the
GTA 5 story
are
fake
.
When is GTA V Trailer #2 or more info coming?
Although Max Payne 3 is releasing, that doesn't mean new GTA 5 information is going to start releasing. It could be weeks or even months before the GTA V hype really starts. Don't fear, though, as screenshots or some other form of information may come before the end of the
world
- I mean
year
. The flow of information really depends on the release date for GTA V discussed above.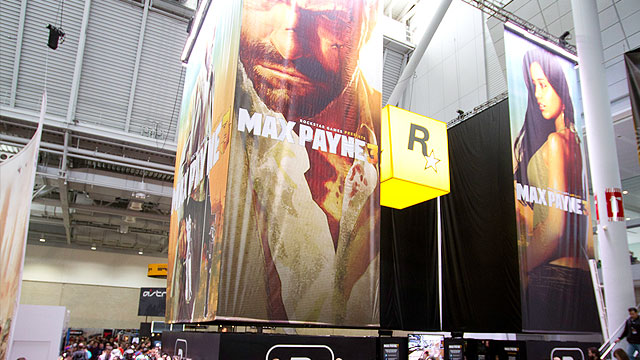 Will GTA V be at E3?
The Electronic Entertainment Expo is coming next week. Take-Two is attending and it seems possible Rockstar Games will be there with them. As stated above, it does not seem likely GTA V info will be coming so close to Max Payne 3 releasing. On top of that Rockstar stays relatively quiet at the event. Analysts like Michael Pachter will continue to push an E3 agenda. We'll see.
Are GTA V vehicles in Max Payne 3?
Recently some fans made some discoveries in Max Payne 3. First was a
vehicle list ripped from the game files
. Some have noted that not all of the vehicles listed actually appear in Max Payne 3 leading others to speculate if they are for GTA V or Max Payne 3 DLC.
Even more recently,
pictures of airplanes were discovered
in the Docks multiplayer map of Max Payne 3. The most notable is a military jet that looks VERY much like the jet seen flying through Downtown Los Santos in the first GTA V trailer. There are also two images of a private jet very similar to the one seen at the end of the trailer. The fourth is a C-130. Again, are these for GTA V or Max Payne 3 DLC? Rockstar has put in little things from other games previously...
GTA V gameplay features and other questions
We are still without official information since the first trailer and announcement so other questions about GTA V are unable to be answered at this time. As always take rumors lightly and
never download anything claiming to be a GTA V beta
. There is no beta or demo. There won't be in the future either. All gameplay videos you may see on YouTube are
fake
.
We hope you enjoyed this group of Frequently Asked Questions. If you have any others you know where to send them. We'll try to answer more of them soon if we can! Until then, check out the
GTA 5 info pages
and join the many discussions in the
Grand Theft Auto 5 forums
!
And one last note: Be sure to join the
iGTA Crew
at the Rockstar Games Social Club!
---
Comments (66)
---
Make A Comment
Sorry, comments have been disabled for this article.