GTAO Event Weekend: Adv. Mode & Race Bonuses, Discounts
Posted by TreeFitty January 29, 2016 : 0 Comments : 4,446 Views
Strap up and get ready to dive into an adrenaline-fueled GTA Online Event Weekend bursting at the seams with bonuses and rewards! Starting today and going through to midnight on Sunday, seize your opportunity to reap double GTA$ and RP in all Adversary Modes including the brand new Drop Zone. Take your Custom Sultan RS or Banshee 900R for a spin with double GTA$ in all Races, get savings on skydiving gear, and plenty more...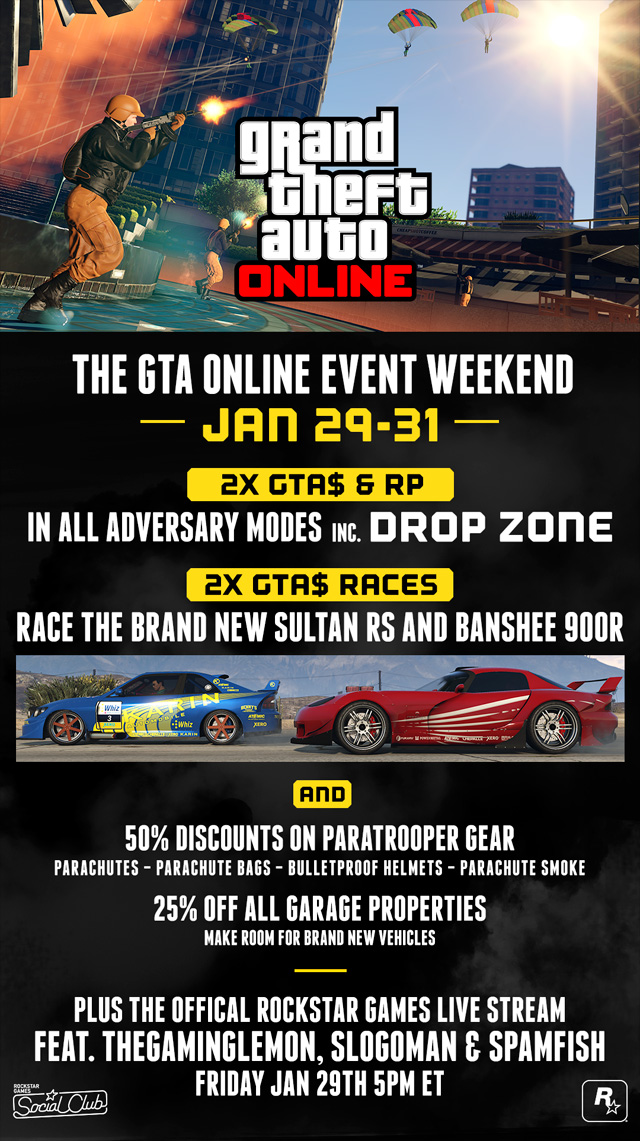 DOUBLE GTA$ & RP IN ALL ADVERSARY MODES
With double GTA$ & RP in all Adversary Modes, your terminal velocity awaits in the furious free fall of Drop Zone. Up to four Teams of paratroopers will be fighting hard for a chance at territorial control knowing that victory in the smoke-filled arenas of Drop Zone will result in rank and bank balance blowing up on the double.
EVENT PLAYLIST
So that you can get in to the action immediately, simply hit the
Event Button
on the GTAV launch screens all weekend. You'll be placed directly in to the Event Playlist alongside other eager competitors and if you complete all three Jobs in the Playlist win or lose, you'll earn a bountiful reward of Sticky Bombs, SMG Ammo, and Grenades to add to your arsenal.
DOUBLE GTA$ IN ALL RACES
For all you keen car collectors and speed junkies, there's some fresh wheels to spin on the streets of Los Santos. The new Karin Sultan and Bravado Banshee are now available from Benny's Original Motor Works website and upgradeable into wide-body race versions at the Benny's location in Strawberry. Add to this a generous helping of double GTA$ on all Races and look forward to a potent weekend of competitive motorsports.
50% DISCOUNTS ON PARATROOPER GEAR
So you're not left hanging without the essential skills for Drop Zone, there's a 50% discount on all Paratrooper gear this weekend. Stock up on Parachutes and Parachute Smoke to perfect your landing approaches in Freemode. Parachute Bags and Bulletproof Helmets are also available at half off all weekend.
25% OF ALL GARAGE PROPERTIES
Make room for the new Sultan RS and Banshee 900R - or any additional vehicles you've been eyeing up for your automotive collection - with a cool 25% off all Garage Properties. If you've been scouting new neighborhoods with extra room for those prized rides, then now's the time.
Enjoy and join the fun in the
forums
!
---
Comments (0)
No comments have been made on this article. Complete the form below to make a comment.
---
Make A Comment
Sorry, comments have been disabled for this article.