GTAO Halloween Event Weekend
Posted by TreeFitty October 30, 2015 : 3 Comments : 5,210 Views
Kicking off today and going through this Sunday, November 1st, you'll have the opportunity to sink those costume teeth and claws into a juicy Halloween weekend lined with sweet GTA Online rewards featuring the official Event Playlist with the brand new Slasher Adversary Mode. To make sure you're seasonally attired for the long, dark nights ahead don't miss out on the exclusive in-game tees available this weekend only and get your snap-trigger fingers ready to capture the most atmospheric and awesome Halloween-themed pics in Rockstar's #Halloween Snapmatic Contest, plus enter the Halloween Sweepstakes Giveaway. Read on for more details...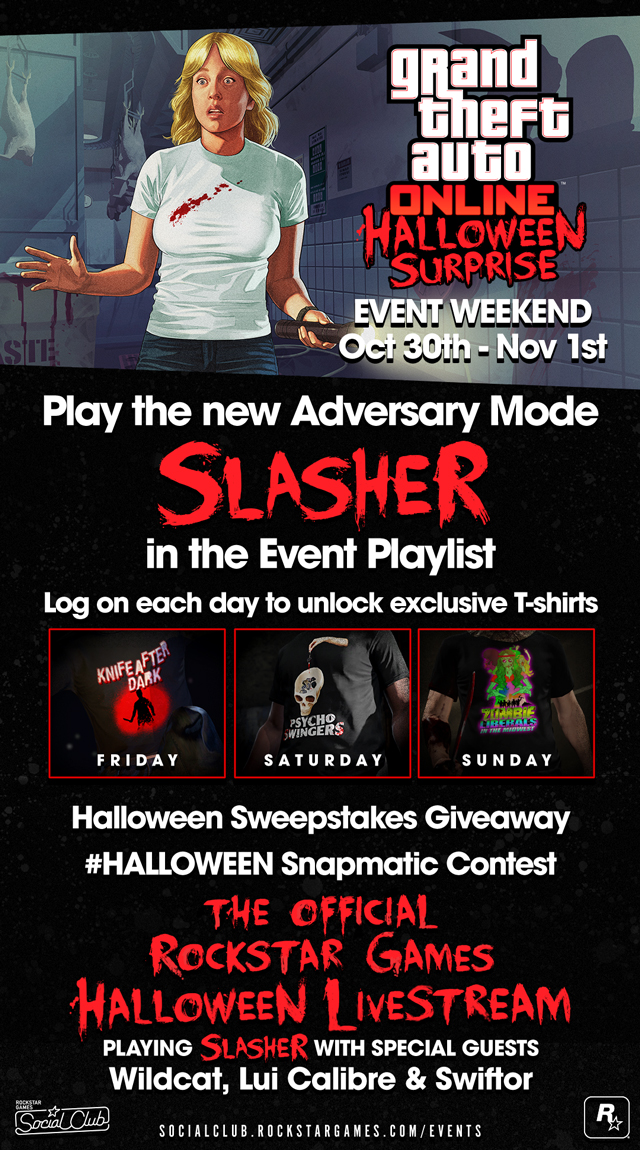 EVENT PLAYLIST
Slasher is the brand new Adversary Mode which pits a shotgun wielding menace against a pack of foes hiding in the gloom waiting to strike with melee weapons. So that you can launch straight into the action, the Event Playlist features three different variants of this game mode and is accessible directly from the GTAV launch screens at the press of a button. If you're already in-game and want to go back for more, simply go to the Event Playlist in the Rockstar Playlists section of the pause menu.
EXCLUSIVE T-SHIRTS
For accompanying attire on your Los Santos trick-or-treat escapades, log on to GTA Online each day this weekend to unlock exclusive t-shirts featuring a few of Vinewood's greatest slasher flicks:
Knife After Dark – Friday, October 30th
Psycho Swingers – Saturday, October 31st
Zombie Liberals From The Midwest - Sunday, November 1st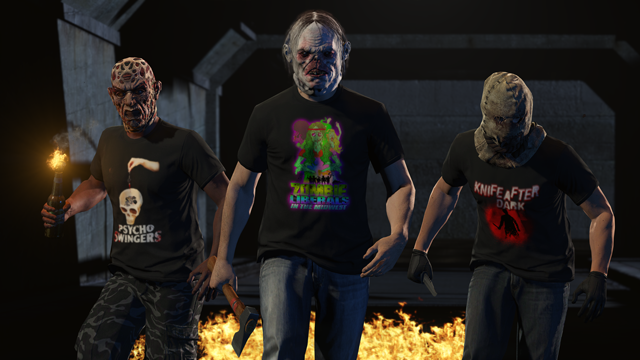 #HALLOWEEN SNAPMATIC CONTEST
Social Club members will no doubt be taking the opportunity to grab some Snapmatics of the awesome new vehicles and masks from the Halloween Surprise while they are still available in GTA Online. Rockstar Games is upping the ante to give you a little extra incentive to get your pictures published to Social Club and shared with the world. Whether it's ghoulish masks lit from an odd angle by the new flashlight, or perhaps you've found the perfect spot to capture the new Lurcher Hearse or Franken Strange... To enter, simply publish your
Snapmatic to Social Club
by Sunday night and make sure that you've tagged it with
#Halloween
on Social Club. Then, keep an eye on the Rockstar Newswire as they'll be announcing the winners sometime next week along with the winners of last weekend's #Lowriders photo contest as well.
HALLOWEEN EVENT SWEEPSTAKES
If you want to get ahead of the game with an outfit idea for Halloween 2016, Rockstar is giving away 5 very special Social Club Event Weekend Sweepstakes Prize Packs, each containing three different costume ideas: the Bugstar boiler suit, the Merryweather t-shirt and the Los Santos Lifeguard t-shirt. If you prefer to keep your Halloween weekend a little more sedate, perhaps with a séance in the woods, they've got your covered with the GTAV Body Bag Sleeping Bag, as well as a Epsilon Program candle to help light your way. They are also throwing in a few Rockstar and GTAV stickers for good measure. If you want to have a chance of winning one of these five prize packs, head over to the
Social Club Events Page
now.
Have fun and join the chat in the
forums
!
---
Comments (3)
---
Make A Comment
Sorry, comments have been disabled for this article.