GTAO Ill-Gotten Gains Week
Posted by TreeFitty March 25, 2016 : 0 Comments : 7,592 Views
After reaping the benefits of a full week of Double GTA$ opportunities in the Lowriders Custom Classics Event Week, take advantage of a huge array of discounts in-game now through to Thursday March 31st. As well as an exclusive unlock available all week and Double RP Race Playlists, there's up to 50% off clothing and tattoos, and 25% off select vehicles and more from the Ill-Gotten Gains Updates, Part I and Part II, not to mention discounts on select car modifications.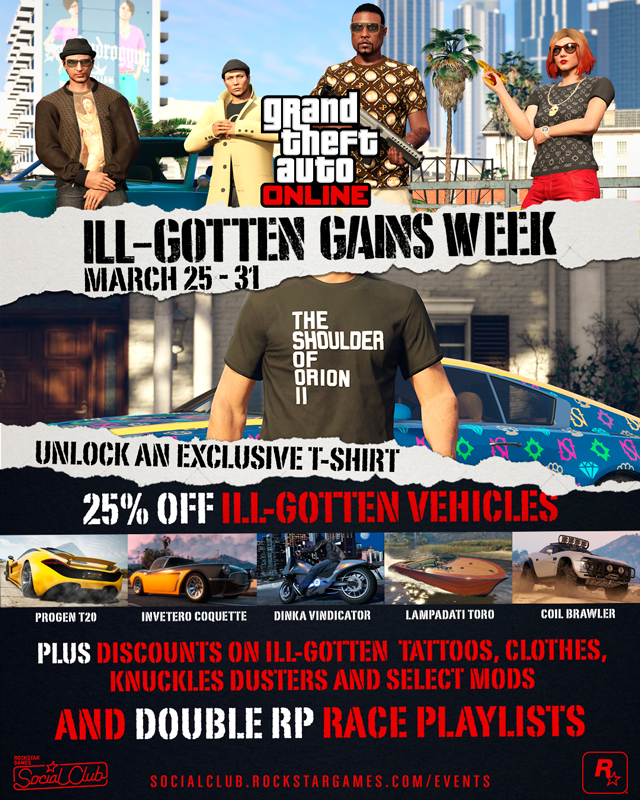 EXCLUSIVE IN-GAME T-SHIRT
"It's time to fight to the end. Again". Simply log-in to GTA Online any day this week and you will unlock an exclusive t-shirt bearing the name of Richards' Majestic cult classic sci-fi feature
The Shoulder Of Orion II
.
DOUBLE RP RACE PLAYLISTS ALL WEEK
There's a Playlist of Double RP Races available to play directly from the GTAV launch screens every day this week. Rockstar will be switching the Playlist up with different types of Races throughout the week so check the schedule below:
• Friday March 25 - Sunday March 27 - Street Races
• Monday March 28 & Tuesday March 29 - Air Races
• Wednesday March 30 & Thursday March 31 - Sea Races
If you complete the Playlist, and want to replay it to earn more Double RP there's no need to restart the game - you can find it again easily via the
Rockstar Playlists
section of the GTA Online pause menus.
25% OFF ILL-GOTTEN VEHICLES AT LEGENDARY MOTORSPORT
Hit the Legendary Motorsport website on your iFruit phone this week for solid discounts on select rides from the ILL-GOTTEN GAINS Update Part 2. Through the end of the month, buy the luxurious off-road beast that is the Coil Brawler, the lightning fast Progen T20, the Muscle classic Invetero Coquette BlackFin and the KERS-enabled Dinka Vindicator motorcycle - all at a 25% discount. Modifications for these vehicles and many others will also be available with a quarter of the price taken off the top. Just roll on over to Los Santos Customs for the hook up!
Not just by land, prices are also getting slashed at sea: the fine folks at DockTease are getting into the spirit of things with 25% off the Lampadati Toro, so pick up this luxurious, balls-out speedboat if you haven't already.
DISCOUNTS ON ALL ILL-GOTTEN GAINS TATTOOS AND OUTFITS
Style your wardrobe, and body, at a good price all week long with 50% off all clothing and tattoos from both ILL-GOTTEN GAINS Updates. Swing over to Binco, Suburban or Ponsonbys to get the look you want in outfits including The Baller, The Swank and much, much more. While you're at it, let your body be the canvas without killing your bank account and get inked with any of the 30 ILL-GOTTEN tats at any parlor for half off too.
HALF OFF ALL KNUCKLE DUSTERS
Leave a lasting impression with any style of Knuckle Duster, from The Pimp to The Rock and everything in between for 50% off retail. Stop off at any Ammu-Nation outlet so you can knock suckers out in style.
Enjoy and join the chat in the
forums
!
---
Comments (0)
No comments have been made on this article. Complete the form below to make a comment.
---
Make A Comment
Sorry, comments have been disabled for this article.