Ill-Gotten Gains 2 Event Weekend
Posted by TreeFitty July 10, 2015 : 4 Comments : 6,847 Views
As promised, here's a rundown of what to expect this weekend (and right now) for the Ill-Gotten Gains Event Weekend. As usual there is bonus RP, GTA$, and more...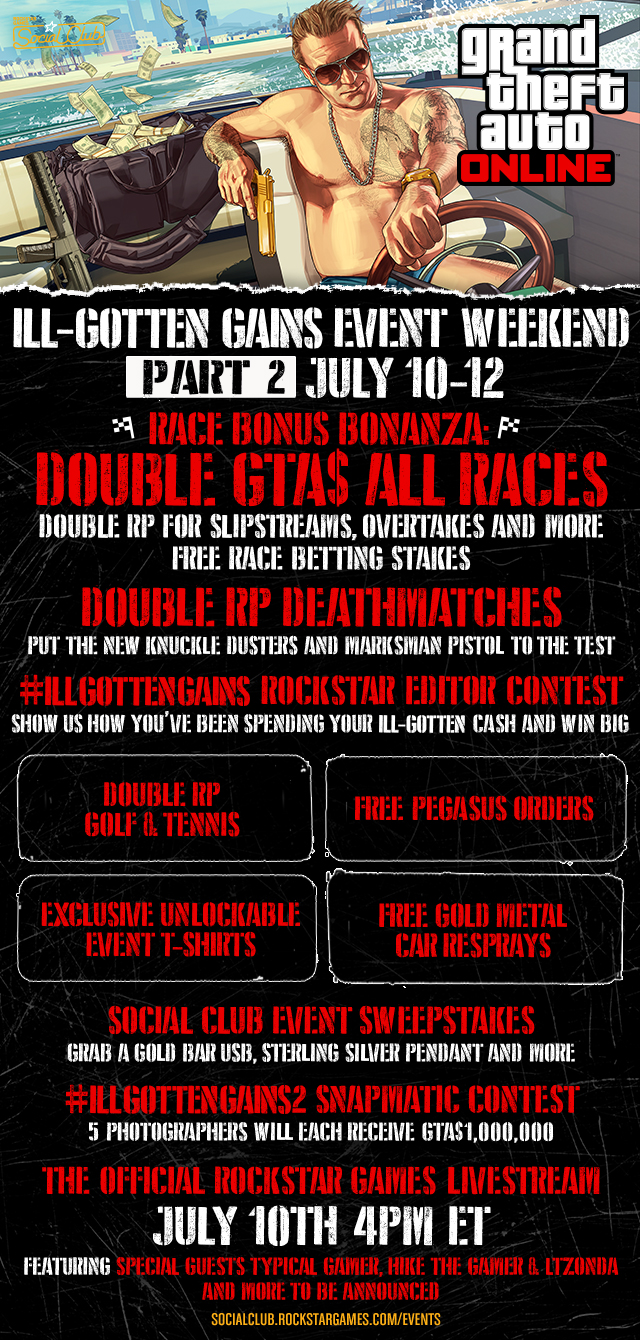 Starting today Friday, July 10th and lasting through Sunday, July 12th, spoil yourself with an assortment of in-game bonuses, including a Double GTA$ Racing Event Playlist, numerous opportunities to earn Double RP, three chances to achieve eternal notoriety and tremendous spoils in sweepstakes and contests, plus a whole lot more...
DOUBLE GTA$ IN ALL RACES WITH EXTRA BONUSES
To help keep your newly acquired designer Dual Driving Loafers planted firmly on the gas pedal this weekend, get Double GTA$ in all Races. Also, all Race bonuses - Slipstreams, Overtakes, entering 1st place, maintaining 1st place for a whole lap, running a clean lap, making the fastest lap or establishing your personal best lap - will pay out Double RP throughout the weekend.
Rockstar has also assembled a special Event Playlist filled with Rockstar Created and Rockstar Verified Races chosen specifically to test drive the brand new vehicles featured in the Ill-Gotten Gains Update: Part Two. The Great Adventurer is perfect for those looking to take the Progen T20 for a spin, and you can certainly flex your muscle in Grass Route and Casino Royale. (On Xbox 360 and PS3 The Life Invader Circuit replaces Casino Royale). To round things out, we finish with the fan-favorite Power Trip, which makes for a perfect opportunity to rev up your Dinka Vindicator. To roll directly into these, just hit the Event button during the GTAV loading screen.
Finally, if you think you got your Progen T20 game locked tight already (or you've been beaten 10 times in a row by the same player, and want to make the next defeat hurt a little less) take advantage of a complimentary $1,000 betting stake in Races this weekend, free to place on whomever you choose.
DOUBLE RP DEATHMATCHES, GOLF & TENNIS
Come to grips with the dead-shot Marksman Pistol or try on new Knuckle Duster melee weapons this weekend in Double RP Deathmatches. Since the Knuckle Dusters will already have you working on your forehand game, head over to the courts at the Richman Hotel and serve yourself up some Double RP in Tennis - or hit the lush fairways at the Los Santos Golf Club instead for Double RP while you try to get that elusive hole-in-one on the 6th.
EXCLUSIVE T-SHIRTS FOR COMPLETING DAILY OBJECTIVES
In addition to RP and GTA$ Bonuses for Racing, industrious players will be rewarded this weekend with a different exclusive T-shirt each day when they complete their three Daily Objectives. To find out what these are each day, head into GTA Online and keep an eye out for the notification that pops up on screen. From there, head to your Interaction Menu and select the Daily Objectives option.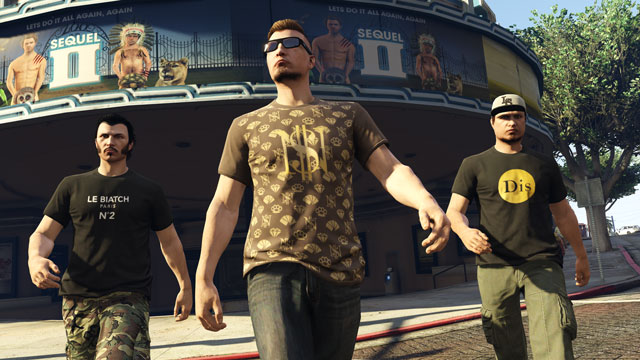 Complete Daily Objectives this weekend to unlock the Gold Dis T-shirt (Friday), Le Biatch T-shirt (Saturday) and NS Print T-shirt (Sunday).
Daily Objectives this weekend have been cherry picked so that you can take advantage of everything the Ill-Gotten Gains Update: Part Two has to offer (and earn your GTA$25,000 daily completion bonus). Objectives are randomized, but keep an eye out for opportunities to participate in a Sea Race in the new Lampadati Toro, or hit some Stunt Jumps using the KERS speed injection feature on the Dinka Vindicator.
GRATIS GOLD RESPRAYS & PEGASUS DELIVERIES
All this weekend, Gold Metal resprays from Los Santos Customs will be absolutely free on everything, including the rough and ready Coil Brawler and the sleek Invetero Coquette BlackFin. Also, all Pegasus orders for luxury vehicle services are on the house. And don't forget about the Legendary Motorsport one-time 25% rebate for qualifying purchases that's happening through next week July 15.
#illgottengains ROCKSTAR EDITOR CONTEST
If you've got some charismatic Crewmates who are eager to show off their luxurious spoils, gather them together to create your next Rockstar Editor short film in our #illgottengains Rockstar Editor contest. Rockstar wants to see how you have put the hard-earned cash from the GTA Online Heists to good use, whether it's showing off a full runway show from Ponsonbys or simply tearing down the Rockford Hills strip in style, they'll be looking for the best and the brightest from the Rockstar Editor community to celebrate excess and graft in the form of stylish video clips.
Prizes for winning include a custom G910 Orion Spark Gaming Keyboard and a G510 Proteus Core Gaming Mouse, both laser-engraved with the winner's Social Club ID and the Rockstar Editor logo. The grand prize winner and two runner-ups will also receive a deluxe prize pack of official GTAV gear and a $100 gift card for the Rockstar Warehouse.
HOW TO ENTER
Create a video in the Rockstar Editor using GTAV PC and publish it to Rockstar Games Social Club via the in-game menu. From there, head to the My Videos page on Social Club, and tag your video with the word "illgottengains" to enter it into the contest. A few important points:
Your video must be between 2 and 5 minutes in length.
The video must be published to Rockstar Games Social Club and tagged with the word 'illgottengains' between now and 11:59pm ET on August 3rd to be eligible.
Void where prohibited, see the official rules for more information.
The video must be made entirely using the Rockstar Editor. We know that many advanced Rockstar Editor video creators like to use additional third party editing software but in order to keep this competition fair for all entrants, we require that you only use the Rockstar Editor in producing the video.
#illgottengains2 GTA$1M SNAPMATIC CONTEST
Rockstar knows there are also quite a few Snapmatic shutterbugs out there who've put in work stacking their chips from doing Heists. They're giving five photographers the chance to win a cool
GTA$1Million
to put towards their material desires, simply by snapping stunning and clever photographs of you flaunting Ill-Gotten Gains Update 2 content with your iFruit camera and tagging the photo on Social Club with "illgottengains2".
So whether you're mugging hard or crushing it in LS downtown traffic with the Coil Brawler, do something truly flashy to catch their eye and you will reap the benefits.
See official rules
.
SOCIAL CLUB SWEEPSTAKES IS OPEN NOW
Fully accessorize and add to your personal collection of spoils with the Social Club Event Sweepstakes, open for entry right now on the
Social Club Events Page
. Enter for your chance to win a stylish set of GTAV goods, including the Gold Bar USB, iFruit Phone Case, Epsilon Sterling Pendant, a copy of the Welcome To Los Santos album and GTAV stickers.
Have fun and join the chat in the
forums
!
---
Comments (4)
---
Make A Comment
Sorry, comments have been disabled for this article.