In & Out Week, New Adversary Mode Tuesday
Posted by TreeFitty April 30, 2016 : 0 Comments : 4,539 Views
The brand new Adversary Mode
In and Out
launches this Tuesday, May 3rd - an intense new take on Capture style team gameplay where Attackers must try to steal all 8 packages of contraband out from under the watchful eye of well-armed Defenders.
Welcome in this new mode with a week-long Double GTA$ & RP Adversary Modes Playlist (which will feature all three In and Out maps from Tuesday through to Thursday May 5th) and special Ammu-Nation discounts!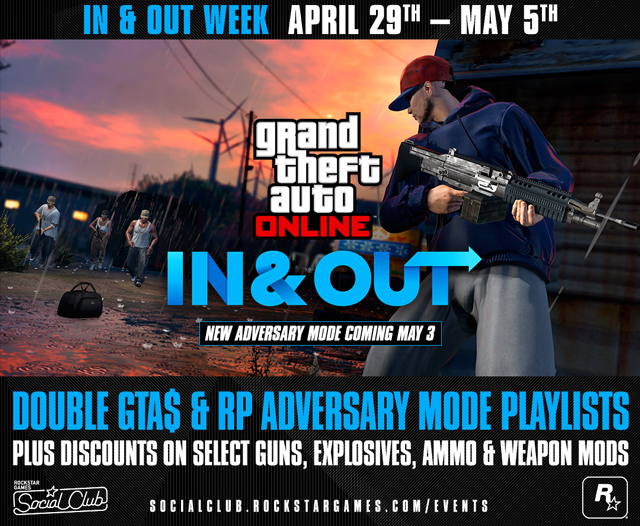 DOUBLE GTA$ & RP ADVERSARY MODE PLAYLISTS
All week long, jump into GTA Online and take advantage of a Double GTA$ & RP Adversary Mode Playlist with rotating modes including favorites like Hunting Pack, Hasta La Vista and more. Hit the prompt button in the GTAV launch screens to dive straight in! And check out some playlist reminders:
• Friday April 29th & Saturday April 30th - Adversary Mode Playlist 1 feat. Hunting Pack, Relay & Offense Defense
• Sunday May 1st & Monday May 2nd - Adversary Mode Playlist 2 feat. Hasta La Vista, Every Bullet Counts & Keep the Pace
• Tuesday May 3rd through Thursday May 5th - In and Out Playlist feat. all 3 maps of In and Out
AMMU-NATION SALE
Ammu-Nation is helping you get your target practice in with cut-rate savings on various guns, explosives, mods, and ammo in-store. Take a ride to any location and stock up on the following reduced items:
• Grenades - 20%
• Sticky Bombs - 20%
• Assault Rifle Mods - 25%
• Combat MG - 25%
• SMG Ammo - 50%
Enjoy and hit up the
forums
!
---
Comments (0)
No comments have been made on this article. Complete the form below to make a comment.
---
Make A Comment
Sorry, comments have been disabled for this article.