Inch By Inch Adv Mode & Vapid Minivan April 12th
Posted by TreeFitty April 08, 2016 : 0 Comments : 5,441 Views
Plenty of more fun coming to GTA Online next week. Check out the new Inch by Inch Adversary Mode and ride off in a sweet customized Vapid Minivan from Benny's. These will be launching this coming Tuesday, April 12th. And if you need even more cash there is 2x GTA$ and RP playlists available starting today! There are also discounts on some weapons too. More details below...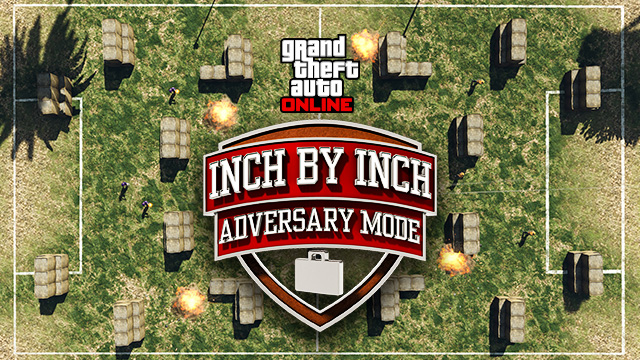 NEW INCH BY INCH ADVERSARY MODE COMING NEXT WEEK TUES APRIL 12
Prepare to fight tooth and nail for every scrap of progress in Inch By Inch, that sees you competing for possession of a Package and clawing your way through a hail of bullets to reach your team's end zone. After each score, the action immediately resets - ensuring a frenetic and desperate battle of wits and skill. The player carrying the package cannot use their weapons, so tenacity and teamwork are required to advance towards the goal line. A burst of speed will help them make some ground, but only a constant barrage of support from their back-up will ensure their hard earned point.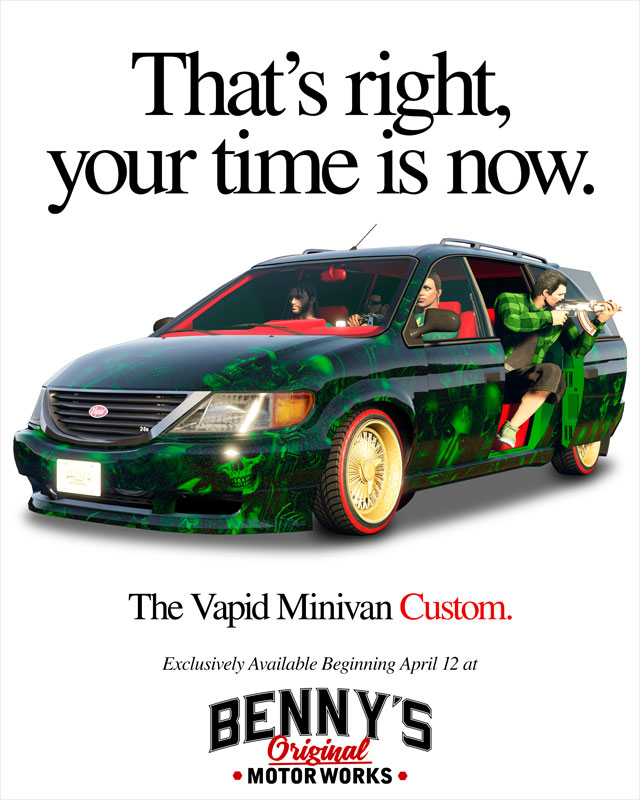 VAPID MINIVAN COMING TO BENNY'S APRIL 12TH
On the heels of the Declasse Tornado arriving this week at Benny's, look for another addition to his inventory this coming Tuesday - the Vapid Minivan for stylish squad transport, as pictured above.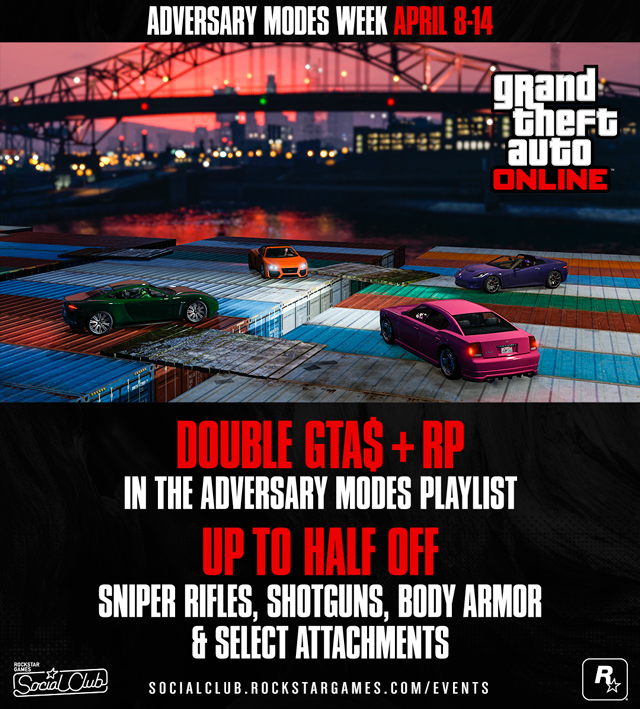 EVENT BONUSES
In honor of the upcoming Inch by Inch Adversary Mode release, starting today Rockstar is offering double GTA$ & RP on a rotating Playlist of Adversary Modes that lasts all week long, which will include Inch By Inch when it launches on Tuesday. Once you've topped up your Maze bank account from the Playlist, head over to Ammu-Nation to take advantage of discounts on a range of weapons and maybe even pick up a few of the ones you've just unlocked with your Double RP earnings.
DOUBLE GTA$ & RP PLAYLISTS
All this week, there will be a Double GTA$ & RP Adversary Mode Playlist ready to be fired off live and direct from the GTAV launch screens. The Playlists will be switched up with different Adversary Modes throughout the week, finishing up with a Double GTA$ & RP Playlist filled with the new mode Inch by Inch. Take a note of the schedule below...
• Friday April 8th through Saturday April 9th - Adversary Modes 1
• Sunday April 10th through Monday April 11th - Adversary Modes 2
• Tuesday April 12th through Thursday April 14th - Inch by Inch 1
Note that if you want to replay any of these Playlists for additional Double GTA$ & RP, you don't need to relaunch the game! You can relaunch them any time via the Rockstar Playlists section of the GTA Online pause menu.
DISCOUNTS AT AMMU-NATION
Get geared up with an Ammu-nation blow out sale on select weaponry and Armor now through Thursday, April 14th, all as part of this week's in-game bonuses. Discounts run all week and are as follows:
• Sniper Rifles – 25%
• Sniper Rifle Attachments – 50%
• Shotguns – 40%
• Shotgun Attachments – 30%
• Body Armor – 50%
Have fun and join the chat in the
forums
!
---
Comments (0)
No comments have been made on this article. Complete the form below to make a comment.
---
Make A Comment
Sorry, comments have been disabled for this article.