Pfister 811 Supercar Available & More Bonuses
Posted by TreeFitty June 28, 2016 : 1 Comments : 4,830 Views
The Pfister 811, the latest Supercar to be added to this season's new inventory at Legendary Motorsport is now available to purchase directly from legendarymotorsport.net in GTA Online. Pfister's first foray into the Supercar class, the 811 is an ample competitor with a sleek, refined look. To celebrate its arrival, look out for an assortment of bonuses in GTA Online this week, including...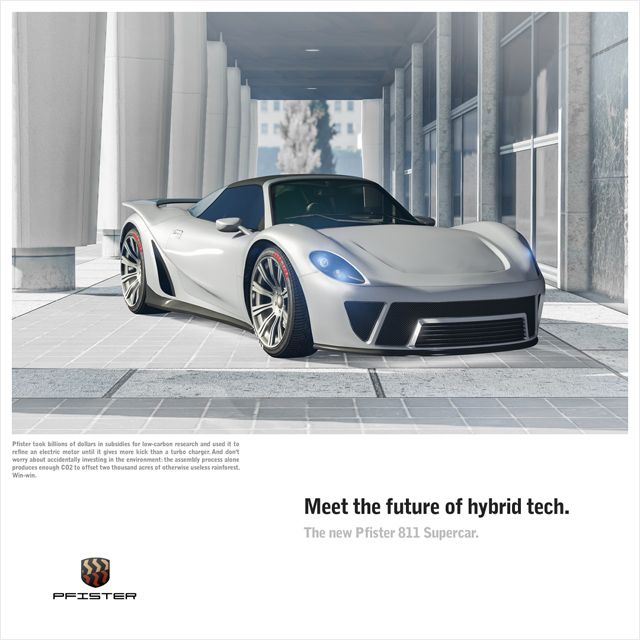 Double GTA$ & RP Street Racing Playlist
Today through this Thursday June 30 only put your Pfister through its paces in an up-to-8-player Playlist featuring "Senora Freeway", "Arms Race" and "Business Trip".
40% off the Turreted Limo and Karin Technical
Sick of having to choose between the comfort and status of a limousine and the sheer utility of an Armored Personnel Carrier? With the Turreted Limo first made available in Executives and Other Criminals, you don't have to. And if you're looking for something a little less extravagant, but still fully functional during a highway skirmish, you can also grab the Karin Technical at a 40% discount.
40% off all Masks
Hit up Vespucci Movie Masks this week for all your facial concealment needs.
50% off Bull Shark Testosterone
Dial up everybody's favorite Alpha and get half off this popular 'supplement'.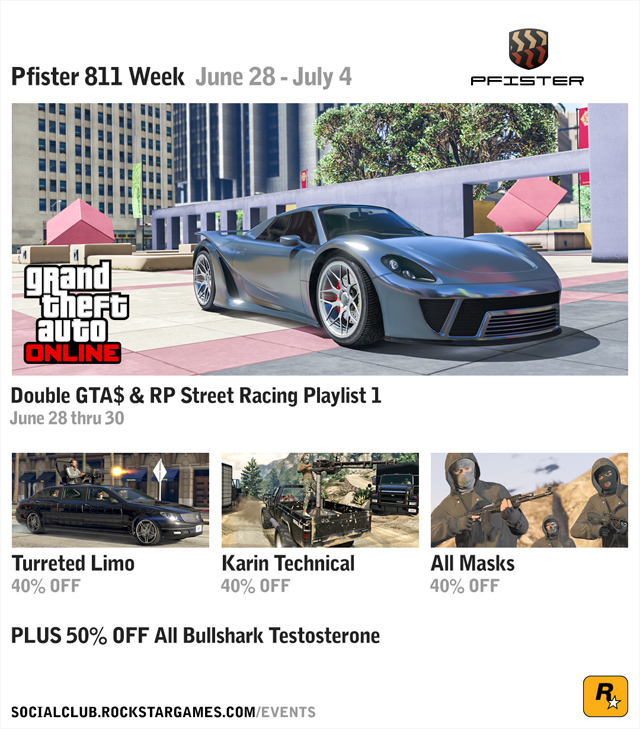 And beginning this Friday July 1 – celebrate Independence Day the American way – with monster trucks, dirt bikes, fireworks and copious consumption of GTA$ & RP.
Double GTA$ & RP Independence Weekend Playlist
Friday July 1 – Monday July 4
An up-to-8-player Playlist featuring "Road Tripping" (TDM), "Across the Wilderness" (locked to the Liberator monster truck), and "Tour the Lake" (locked to the Sovereign motorbike).
All of the original Independence Day Special content will be returning to GTA Online from this Friday July 1 all the way through Monday July 11th – and will also be on sale at 25% off:
• Liberator monster truck
• Sovereign motorcycle
• Firework Rocket Launcher and its ammo
• Independence Day Special patriotic gear including Hats, T-shirts and more
Enjoy and hit up the
forums
!
---
Comments (1)
---
Make A Comment
Sorry, comments have been disabled for this article.