Rockstar Editor Coming to PS4 & XB1 September
Posted by TreeFitty August 24, 2015 : 5 Comments : 6,041 Views
The next update to Grand Theft Auto V - or new-gen at least - is coming next month. The video editor will debuting on the PlayStation 4 and Xbox One consoles along with some new features also making their way to the PC version.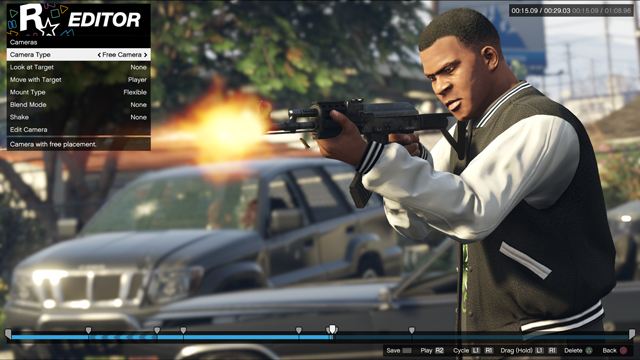 Create, edit and share your GTAV and GTA Online experiences – from amazing stunt montages to creative machinima storytelling – with the Rockstar Editor coming in September to PS4 and Xbox One.
NEW FEATURES
Here's a brief rundown of some of the new features that will debut as part of the next official update:
Ambient Audio and Sound Effects Library: Add ambient and atmospheric sound design with a library of audio tracks to help bring your scenes to life or add sound effects from a collection of Foley and other sfx.
Snapmatic Integration: Now you can export any still frame at a marker point straight to Snapmatic, giving you ultimate freedom when searching for that perfect camera angle.
Director Mode Updates: An enlarged minimap with location blips to highlight preset locations, the power to freeze chosen time of day settings and the ability to spawn air and water vehicles.
Copy and Paste Marker Properties: Easily copy and paste your audio settings from any marker to another marker in the clip – adding invaluable efficiency to your go-to editing techniques.
New Fonts: You'll now have more style options than ever for your titles and credits -Rockstar is tripling the library of available fonts with new styles.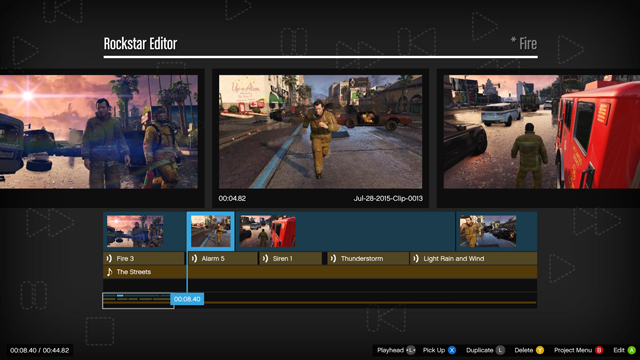 Add dramatic sound design to your creation with a new library of atmospheric Ambient Tracks.
Stay tuned for more features to be added in later updates as well – and as always, if there's a feature or change that you'd like to see, feel free to send it to Rockstar Games at
[email protected]
where they are always on the lookout for great suggestions from players to help inform upcoming Title Updates. Also, stay tuned for more info about future video editor contests for all three platforms and further details about this forthcoming update.
Join the chat in the
forums
!
---
Comments (5)
---
Make A Comment
Sorry, comments have been disabled for this article.