The Business Weekend Social Club Event
Posted by TreeFitty March 05, 2014 : 4 Comments : 9,143 Views
Once again Rockstar Games is turning up the RP and hosting a
Las Venturas
Los Santos
business party to celebrate the
latest DLC release
for GTA V and Grand Theft Auto Online. It's time for some capitalism punishment in the
Business Weekend Social Club Online Event
, this Friday, March 7th, through Sunday, March 9th.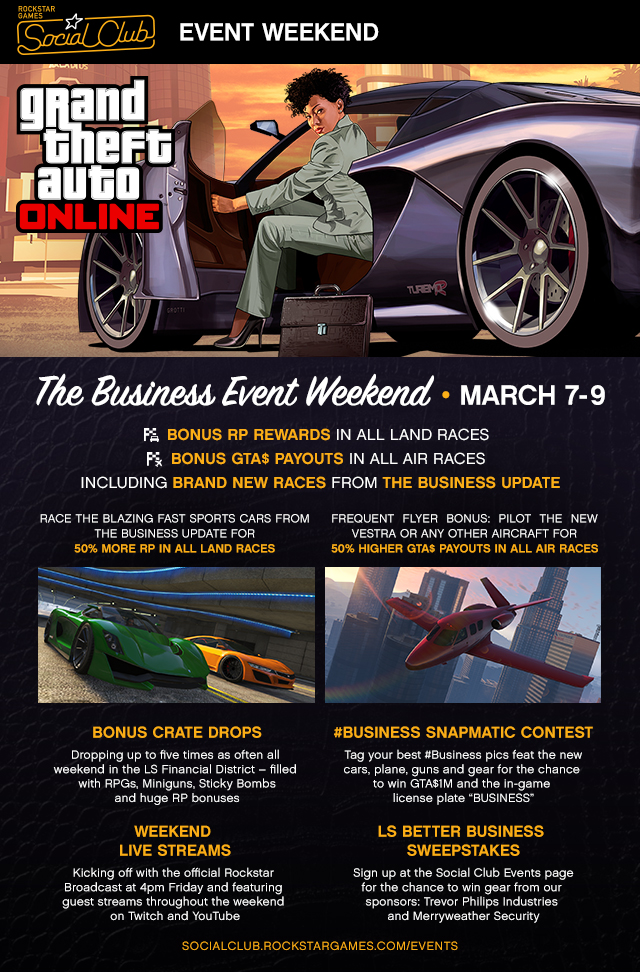 High-end cars and rarefied recreational activities are on the menu, featuring a diverse portfolio of in-game benefits like bonus RP and GTA$ payouts for Land Races and Air Races respectively - and high powered weapons literally falling from the sky in Event Crate Drops all weekend. Also, there'll be chances to score rare GTAV gear in the
Social Club Los Santos Better Business Sweepstakes
and in-game GTA$1M and the exclusive 'BUSINESS' vanity plate in the
#BUSINESS Snapmatic Contest
. There'll also be special Event Weekend live-stream broadcasts starting this Friday afternoon with the official Rockstar show, featuring special guests and fun with the new plane, cars, guns and Jobs included in The Business Update.
IN-GAME REWARDS AND BONUSES
Acquire the new blazing fast sports cars, Vestra aircraft, and powerful weaponry that are now available in The Business Update and also reap special in-game rewards and bonuses right through the weekend including:
50% more RP in all Land Races, providing the ideal opportunity to open up that brand new Albany Alpha, Dinka Jester and Grotti Turismo R.
50% higher GTA$ payouts in all Air Races - a frequent flyer bonus for those who thrive in the skies of Los Santos.
High Priority Vehicle - Simeon has spotted a rush in demand for company cars and has put the call out for Ocelot Jackals this weekend. Wait for his text, grab the car and fight your way back to the docks for a nice GTA$ boost.
Event Crate Drops - Bonus Event Crate Drops will be falling from the skies regularly in the Downtown Los Santos financial district as well as around the airfields of Los Santos and Blaine County. This weekend, the Crates will be stuffed with RPGs, Miniguns, Sticky Bombs and more RP than ever - with up to 8000RP in every Crate.
#BUSINESS SNAPMATIC CONTEST
Tag your best Snapmatic shots between now and end of day Sunday with #BUSINESS showing off your most creative, most awesome, and most beautifully composed moments featuring any of the new cars, guns, aircraft, gear or Jobs from The Business Update. Rockstar Games will pick five (5) favorites to award GTA$1M in in-game financial dividends as well as the exclusive 'BUSINESS' in-game vanity license plate so you can always roll around Los Santos like a boss.
See full rules and eligibility details
.
EVENT WEEKEND LIVE STREAMS
Rockstar will be kicking off the weekend with this Friday's official Rockstar live stream broadcast from 4-6pm Eastern Time US with two hours of mayhem, hijinks, and playthroughs of the new Business Update Jobs and gear hosted by Rockstar and featuring special invited on-stream guests. They'll be streaming across the
Social Club Multiplayer Events page
, the
Rockstar Games Twitch.tv channel
, and the
Rockstar Games YouTube channel
. Tune in and join the fun in the hosted chat at Twitch and Social Club as well.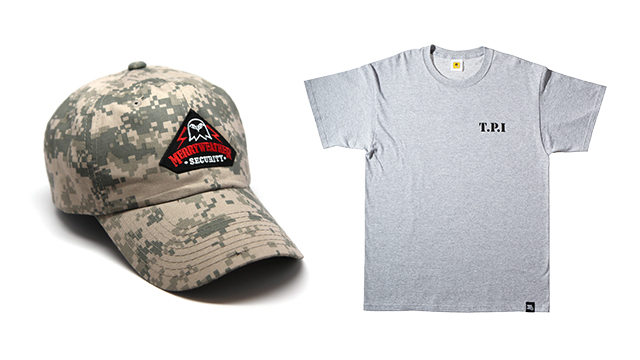 LOS SANTOS BETTER BUSINESS SWEEPSTAKES
Finally, enter The Los Santos Better Business Sweepstakes all weekend for the chance to become a walking billboard for some of Los Santos and Blaine County's most reputable local businesses. Five lucky winners will win the super rare
Trevor Phillips Industries tee
and
Merryweather Security camouflage cap
. 10 runners-up will score GTAV tees and stickers. To enter, just fill in the form at the
Social Club Events page
between Friday and the end of day Sunday March 9th.
Sounds good! Join the chat in the
forums
!
---
Comments (4)
---
Make A Comment
Sorry, comments have been disabled for this article.