This Weekend's GTAO Bonuses & Discounts
Posted by TreeFitty October 01, 2016 : 0 Comments : 5,184 Views
Get all the tools you'll need to take control of your Los Santos business empire this weekend with a collection of colossal discounts and bonuses in GTA Online. Between now and Monday, October 3rd, take advantage of some pretty sweet deals, including half off Warehouses, Executive Offices and all Lester, Pegasus and Merryweather Services. Also lounge in style with new Yellow Swirl Pajamas and matching Smoking Jacket, available just by logging on. There's also discounts on Warehouse Workbench Vehicle Upgrades, select Super cars and much, much more...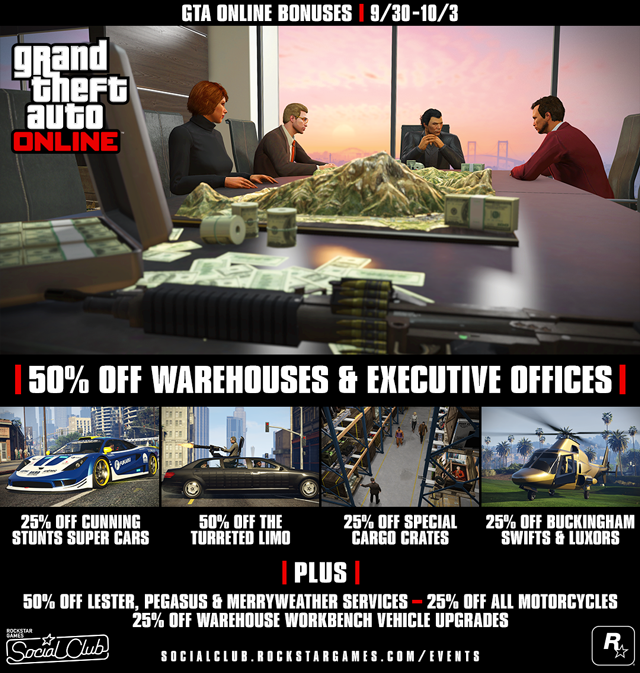 HALF OFF WAREHOUSES & OFFICES PLUS 25% OFF DÉCOR & CUSTOMIZATION & SPECIAL CRATES​
Corporate startup costs can be a burden, so get a leg up this weekend with:
• 50% off Executive Offices - visit Dynasty 8 Executive Realty today
• 50% off any Warehouse - secure storage for your illicit dealings
• 25% off all Office Décor Customization to tailor your new HQ to your specifications
• 25% off Special Cargo Crates - start buying up product for your stash houses
• 25% off Warehouse Workbench Vehicle Upgrades - applies to the Brickade, Cuban 800, and the Tug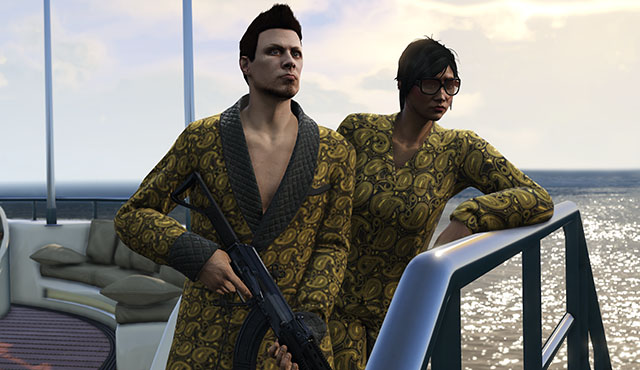 UNLOCKABLE YELLOW SWIRL PAJAMAS & SMOKING JACKET
Hop into GTA Online at any point between now and Monday and unlock the Yellow Swirl Pajamas and Smoking Jacket (simply log in and then head to any clothing store to collect them free). Perfect for a sophisticated evening of relaxation after a hard day's work, you'll definitely want this dapper lounge wear in your wardrobe.
25 - 50% OFF SELECT VEHICLES & AIRCRAFT
This weekend, take advantage of a range of discounts on everything from executive air travel to deals on two-wheeled beasts in preparation for the upcoming release of GTA Online: Bikers.
• 50% off the Benefactor Turreted Limo from Warstock Cache & Carry
• 25% off all Buckingham Swift and Luxor models at Elitás Travel
• 25% off the Annis RE-7B, Emperor ETR1 and Progen Tyrus at Legendary Motorsport
• 25% off ALL Motorcycles
50% OFF LESTER, MERRYWEATHER & PEGASUS SERVICES
If you're in need of a special vehicle delivery, or you have to lean on Mr. Crest and/or the fine folks at Merryweather to get yourself out of a jam, you'll get half off the usual fees this weekend.
• 50% off special vehicle delivery from Pegasus
• 50% off Lester services
• 50% off Merryweather services
DOUBLE RP OPPORTUNITIES
Grow your rep this weekend with Double RP in all VIP/CEO Work and Challenges, in Online Heists, and whenever you're in VIP/CEO Proximity.
PREMIUM STUNT RACE: "AFTERBURNER"
This weekend's Premium Stunt Race is a hot one. Beginning today, participate in the Bikes-locked "Afterburner" for Triple RP and a chance at hefty GTA$ payouts. To enter, head over to the yellow Premium Race Blip in Legion Square or join via the Quick Job App.
Hit up the
forums
!
---
Comments (0)
No comments have been made on this article. Complete the form below to make a comment.
---
Make A Comment
Sorry, comments have been disabled for this article.