Valentine's Day Massacre Special Available, SC Event This Weekend
Posted by TreeFitty February 13, 2014 : 5 Comments : 13,024 Views
A little earlier
than stated
but that's nothing to complain about. The Valentine's Day Massacre Special is now available with the latest title update (1.10).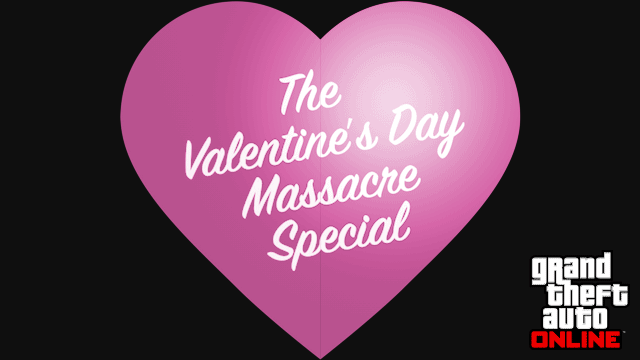 The update includes a variety of fun Valentine's themed extras for Story Mode and GTA Online like the Gusenberg Sweeper machine gun, the new Albany Roosevelt ride, and a host of new attire options like double breasted suits, flapper dresses, sexy undergarments, novelty t-shirts, hats, masks, and more! These items are all available to purchase in GTA Online right now until the end of February - and once acquired they're yours to keep in your inventory for good.
NEW JOBS
This update also has 10 new Jobs across a variety of modes. Here's a few details...
"Shotgun Wedding" (Team Deathmatch): The title says it all. Small-scale Deathmatch around the church in Paleto Bay that's locked to shotguns. It'll be a lot less bloody than divorce.
"Property Values" (Deathmatch): Forget about love, nothing's going to break your heart like the price of real estate. Free for all Deathmatch on an unaffordable cul-de-sac near Mirror Park. Look out for the sniper on the grassy knoll.
"Creek" (Parachuting): Nothing says 'I'm in love' like throwing yourself out of a chopper with up to seven other idiots. A steep dive, almost skirting the side of the Raton Canyon, gliding into Cassidy Creek.
"Vinewood Tours" (Race): Who needs love when you've got booze in your belly and stars in your eyes? Lap race for cars and bikes taking in all the tourist sights of Vinewood and Rockford Hills.
"Motorboating" (Sea Race): A good motorboating is all anyone wants for Valentine's Day. Take your love for a trip around buoys and over jumps to the North of Mount Gordo.
"Heart Breaker" (Bike Race): Make your feelings known by carving a love heart into the Grand Senora Desert. Hills and jumps in this mainly off-road lap race for bikes on a heart-shaped track.
VALENTINE'S MASSACRE SOCIAL CLUB EVENT WEEKEND
This Friday, February 14th through Monday, February 17th jump into GTA Online to make sure you redeem the limited-time-only Valentine's Day Massacre Special content and also reap four whole days of in-game rewards, discounts and happenings in the Valentine's Weekend Massacre Social Club Online Event. Tailor up in a new double breasted suit or flapper dress from the Valentine's Day Massacre content pack, grab a trusty Gusenberg SMG and pick up your loved ones in an Albany Roosevelt to paint the town red all weekend long.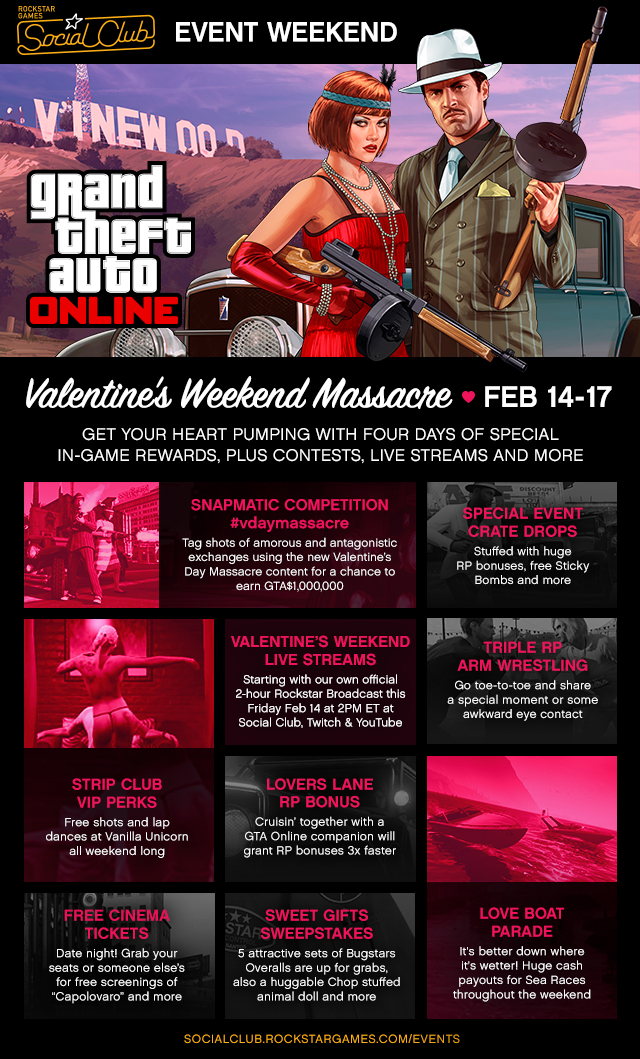 IN-GAME REWARDS
In addition to the limited-time-only Valentine's Day Massacre Special content that can only be redeemed between Friday, Valentine's Day through the end of February (but once redeemed, you can hold on to it for good), Rockstar has lined up lots of special in-game rewards exclusively for players this weekend to help you paint the town red.
Special Event Crate Drops. Make-out big by lurking around some of San Andreas' most secluded spots such as the secluded beach in North West Blaine County, the Stables, Del Perro Beach, the Observatory Car Park and, of course, the VINEWOOD sign. Special Event Crate Drops will be falling from the skies in those lovers' lane locations frequently, stuffed with huge RP bonuses, a range of SMGs, and Sticky Bombs to give that special someone some serious separation anxiety.
Triple GTA$ payouts for all Sea Races. Cruise the waterways of Los Santos and Blaine County and if you can best your rivals in a Sea Race, your happy ending will be extra sweet with triple the GTA$ payout.
Triple RP in Arm Wrestling all weekend. Lock hands, make some awkward eye contact and push for glory and triple the RP.
RP bonuses for riding in cars with others will be awarded up to three times as fast, whether you're in a traditional twosome or a full-on ménage.
Free cinema tickets all weekend to your choice of date night screenings.
Look for love in all the wrong places with free shots and free lap dances at the Vanilla Unicorn.
PLUS for old time's sake and by popular demand, Rockstar is also turning on Triple XP in both Max Payne 3 and Red Dead Redemption all weekend long (through end of day Monday).
SNAPMATIC COMPETITION - #vdaymassacre
Share your best Snapmatic shots from the Valentine's Event Weekend and tag them with #vdaymassacre for your chance to win a cool GTA$1M and one of five exclusive in-game license plates (MASACRE, VLNTINES, VMASSCRE, KISS IT, BE MINE). Rockstar Games wants to see the best shots of you and your beloved Crew members breaking hearts with the new Valentine's Day Massacre outfits, car and gun - and taking advantage of the other in-game Event rewards mentioned above. They'll pick their five photogenic favorites to feature at the Newswire and pay out a handsome GTA$1M each.
LIVE STREAMS
Rockstar is kicking off the weekend on Friday afternoon with an epic Rockstar-hosted live-stream which will be broadcast across three different channels: the
Social Club Online Events page
, the
Rockstar Games Twich.tv Channel
and the
official Rockstar YouTube channel
. Head over to Twitch.tv or YouTube now and subscribe for an automatic email notification when the stream begins. During the show, they'll be joined in the studio by esteemed Twitch broadcaster and GTA fan
Swiftor
who will be playing live along with the Rockstar Devs and members of the Social Club community joining them in lobbies Online. Rockstar will be playing through some of the brand new Jobs from the Valentine's Day Massacre Pack including brand new Last Team Standing, Races, Parachuting and Deathmatches as well as the latest round of Rockstar Verified player-created Jobs. Tune in from 2pm til 4pm ET Friday. Members of Rockstar Games will be online playing on both Xbox LIVE and PlayStation Network as PlayRockstar, PlayRockstar1 and PlayRockstar2, so feel free to look out for them in the lobbies.
There will also be more Valentine's Weekend Event live-streams happening hosted by some of Rockstar's broadcaster friends on YouTube and Twitch.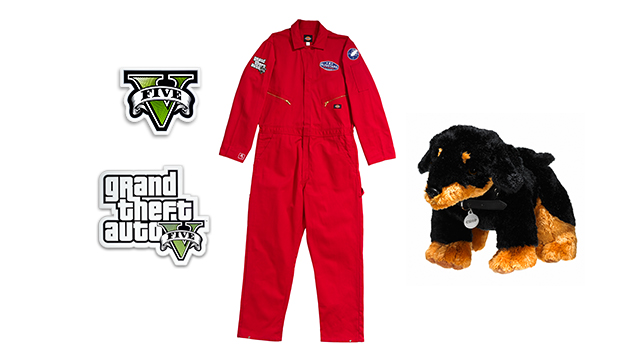 EVENT SWEEPSTAKES
Finally, enter to win sweet prizes in the Valentine's Weekend Event Sweepstakes. 5 lucky winners will score a deluxe Grand Prize Pack featuring the Valentine's-red Bugstars jumpsuit to role play in style along with a huggable Chop stash stuffed animal doll along with official GTAV t-shirts and stickers. 10 runners up will receive an official GTAV t-shirt stickers for themselves.
See Official Rules here
.
ADDITIONAL UPDATES TO GTA ONLINE
Today's automatic title update includes the triumphant return of the Rat Loader pickup truck to GTA Online. This vehicle and all its mods are available for free until the next title update, so anyone who might have lost one from their garage previously can now re-create it at no cost. Just grab it from the southernsanandreassuperautos.com in-game website and modify it at any Los Santos Customs location.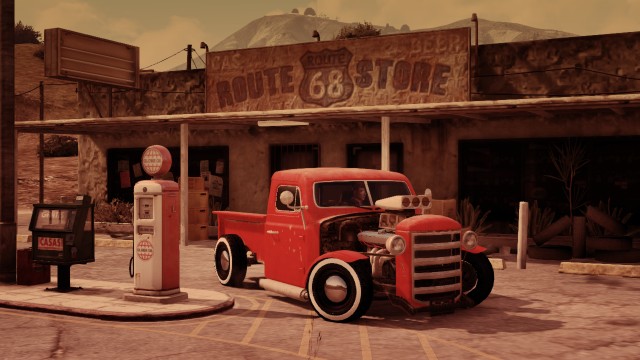 The Rat Loader returns to GTA Online. Snapmatic photo taken by jBhIpS.
This title update also enables solo players in Races to earn GTA$, plus provides fixes for numerous issues, including incorrect time displays for some players in the Bad Sport pool, issues with the Cornrows haircut and situations where characters would become bald after using a mask. For a complete list of fixes in this update, please check out the article at
Rockstar Support
.
Enjoy and join us in the
forums
!
---
Comments (5)
---
Make A Comment
Sorry, comments have been disabled for this article.