Versus Missions Week: 2x GTA$ & RP
Posted by TreeFitty March 04, 2016 : 0 Comments : 4,384 Views
Another week of bonuses in GTA Online. This time get twice the rewards for all Versus Missions now through Thursday March 10th. Also take advantage of discounts for certain items at stores. More details below...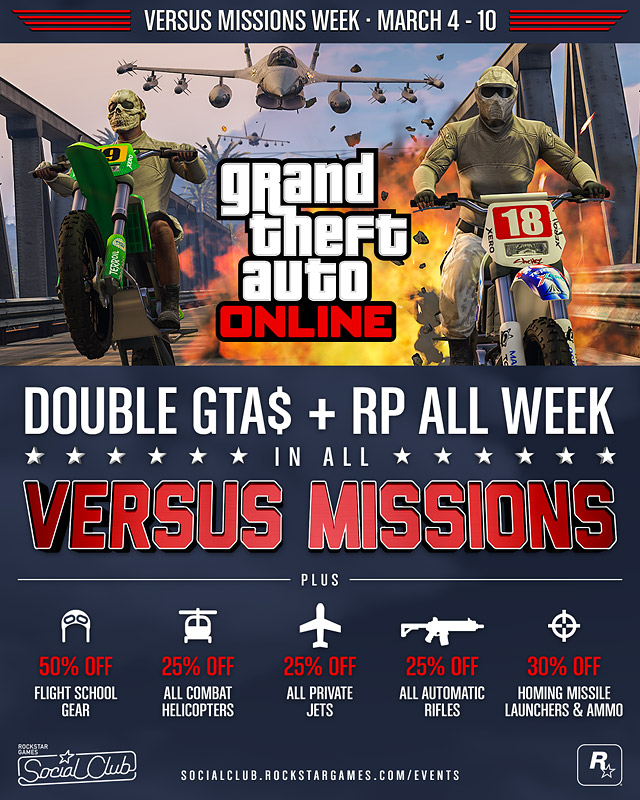 VERSUS MISSIONS
Acquire Targets I, II, III | Air Force Zero I, II, III, IV, V | Airport Parking | Crooked Cop | G-Rating (Cold) I, II, III, IV, V | G-Rating (Hot) I, II, III, IV, V | Hippy Hunting | Into The Wild | Roadgame | Top Fun, II, III | Truck Off | Weed Killer | Welcoming Party
Not only that, you can also earn double RP for flying under bridges and for completing lessons at the San Andreas Flight School.
DISCOUNTS ON AIRCRAFTS, WEAPONRY & CLOTHING ALL WEEK
To ready yourself for the double GTA$ & RP Versus Missions as well as flying and fighting the not-so-friendly skies, enjoy a wide array of pertinent discounts:
• 50% off Flight Suits & Flight Caps
• 25% off all Combat Helicopters
• 25% off all Private Jets
• 25% off all Automatic Rifles
• 30% off Homing Missile Launchers & Ammo
VERSUS MISSIONS PLAYLISTS
Launch yourself directly into the double GTA$ & RP Versus Missions when starting up GTAV, by pressing a single button when prompted on the GTAV loading screens. Since there are so many modes to get through, Rockstar will be switching up the Playlist every couple of days.
Enjoy and find some frenemies in the
forums
!
---
Comments (0)
No comments have been made on this article. Complete the form below to make a comment.
---
Make A Comment
Sorry, comments have been disabled for this article.